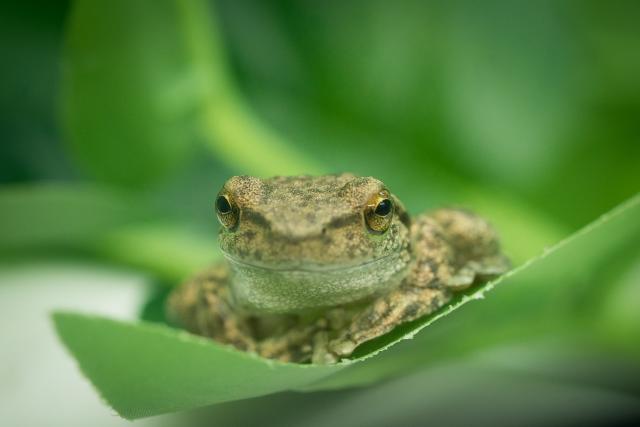 Submitted by Healesville Sanctuary Senior Reporter Hannah Sly.
Despite many things being put on pause during the whirlwind year of 2021, the wildlife conservation work at Healesville Sanctuary continued throughout.
There were many moments of joy, growth, and serenity. Amid bursts of winter sunshine, the Sanctuary's newest Kangaroo Island joey decided to poke its head out of mum's pouch for the very first time and, eventually, keepers were able to confirm that it was a male.
The little one was named Munup [Pron: Mun-Opp], which means spirited one in the Woiwurrung language of the local Wurundjeri people. Munup and the rest of the mob can be seen along the Sanctuary's Kangaroo Country track.
There was renewed hope in the fight against extinction of the critically endangered Helmeted Honeyeater, with both captive-bred birds from Healesville Sanctuary and wild birds becoming the 32 founders of a second population in Yarra Ranges National Park – a major milestone for the Helmeted Honeyeater Recovery Program.
Since 1989, the combined efforts of the Victorian State Government and a host of conservation partners has prevented the extinction of this charismatic bird and seen the last remaining wild population at Yellingbo grow from just 50 birds to 250 individuals.
In July, a quarantine bunker at Healesville Sanctuary was the location for a new captive breeding recovery program for the critically endangered Spotted Tree Frog.
Frogs were collected from fire-affected rivers in north-east Victoria after surveys by researchers from the Department of Environment, Land, Water and Planning (DELWP), the University of Melbourne and the Threatened Species Recovery Hub confirmed multiple bushfires, flash flooding and sediment events, and a high incidence of the deadly fungal disease, had significantly impacted the Spotted Tree Frog population. If the captive breeding program is successful, frogs will eventually be released back into the wild.
Meanwhile, the Sanctuary's Australian Wildlife Health Centre saw a record number of wildlife cases during spring. For the month of September, a total of 271 animals were seen by the expert veterinary team, which is about three times the number of cases treated the previous year. For October, 283 wildlife cases were treated, and November was just as busy.
Healesville Sanctuary Director Ross Williamson said, despite the challenges, there is always hope.
"We have maintained the care and protection of our animals and the wildlife in our threatened species programs, and our capacity to care for animals continues in the right direction," Mr Williamson said.
Looking ahead, Healesville Sanctuary has plenty of exciting plans for 2022, including the return of the Sundown at the Sanctuary event series, with the Sanctuary staying open until 7pm each Saturday in February so visitors can linger longer and enjoy live music while sipping on a local beverage in the bushland setting.
Healesville Sanctuary is also fundraising to build a world-class Platypus Conservation Centre, to replace the current building where the world's first ever captive platypus was born in 1943. Visit www.zoo.org.au/donate/