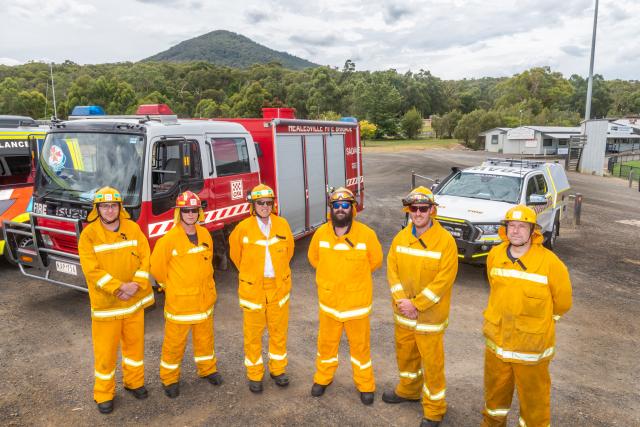 By Renee Wood
A record breaking year for SES
Healesville SES unit controller Andrew Worley said 2021 was an evolved version of 2020, posing greater issues and challenges.
"There was this constant balance juggling throughout the year. Sometimes lockdowns were the main issue, sometimes it was storms and floods, other times it was having to adapt to different ways of training because of restrictions," Mr Worley said.
This produced a constant demand on SES services, impacting members and making the whole year busy rather than just traditional spring or storm seasons.
"I think 2021 was certainly trying its best to throw us, we had all the storm and flood events, quite a few landslips onto roads causing hazards or damaging the road, we had about 350 requests for assistance, which is above average."
Although a rise in weather event calls, the local SES saw a decrease in road accidents due to people staying at home.
Michelle Zwagerman has been with the Healesville SES for a year and a half and said she joined after the 2019 bushfires when she wanted to step up in times of need.
"When that happened, I really wanted to go and help out and I called a few numbers asking if there's something I can do – anything, and the answer then was, you're not trained," she said.
The June storms were also overwhelming for the new member but she was grateful to help the community during a difficult time.
"We had so many calls, the calls just kept coming and coming every time we arrived at a scene, we then had already two or three calls come in that we would have to attend to after that."
A recent incident where a tree fell onto a driving vehicle was also another moment Ms Zwagerman helped to save a life.
"Just seeing that we have such an important part to play when something like that happens that we can get in there and save a life basically."
There's hope 2022 will also bring more community engagement opportunities, including recruitment drives.
"It's basically been two years worth of an impact on that, so that has flow on effects – for the members that we do have, with a constant high demand on our services, and a pause on the number of people that were able to be recruited means that we have to do some catch up to bring that back into balance," Mr Worley said.
Anyone interested in volunteering for a local emergency services, be it CFA or SES, is urged to get in touch.
"In an emergency, when community really needs help, that you'll be trained to actually play a role in that. And that role can be all sorts of rolls from from frontline with a chainsaw in your hands, to four to rescuing somebody from the car or filling sandbags to stop the house from flooding," Ms Zwagerman said.
SES joins to help Ambulance Victoria
2021 also posed a unique opportunity which saw Ambulance Victoria and SES join together to support during emergency call outs.
Volunteers underwent Ambulance familiarisation training to allow members to provide additional support during surges for services.
"We had the surge forces created where professional paramedics split and paired with SES and other volunteers," Andrew Turner, Ambulance Victoria Healesville team manager, said.
Mr Turner said Ambulance Victoria saw a 40 per cent rise in calls in 2021, which was an increase on previous years.
"Certainly in 2021 the demand for paramedic services has increased and to meet community needs we've needed other services to assist us."
Mr Worley said the program allowed members to assist with some of the tasks to free up the hands of the paramedics to do their job.
"It's driving the ambulance, particularly on the way to one of their call outs, carrying the gear, assisting in the handling of casualty and that sort of thing," he said.
Fire brigades cope with wild weather events and lockdown fall out affects
The region's fire brigades stepped up instantly to help in times of need, responding to calls for assistance from locals and other brigades.
Coldstream CFA Captain Sean Bethell said the brigade has seen an increase in calls this year.
"We've done just under 200 calls this year, which is up probably about 40 more calls than previous years. And lot of that's supporting into Lilydale a bit more than what we're used to."
The storms also posed a different risk for the community and CFA call outs.
"The storms that we've had, we've had some interesting different calls, with people having to use candles instead of still having their power on. So we ended up with a spate of house type related fire calls."
Captain Bethell said he saw as many as ten calls for candle related fires, more than in previous years.
Crews also responded to more calls into Lilydale during the storms to help with trees down, and also went up the hills to help.
Captain Bethell was with one of the crews who went to clear roadways for emergency services and locals in Mount Evelyn and Kalorama.
"It was scary enough during the day up on Mount Dandenong and Kalorama area, hearing the wind howling and cracking trees, and then to be there during the night where you just couldn't see what was above you would have been even worse."
Covid-19 lockdowns were also playing havoc on crews being able to connect outside of emergency situations.
Yarra Glen CFA Captain Bill Boyd said it was hard for crews to not be able to get together.
"Yarra Glen's normally a very, very tight brigade, in that we see each other regularly, we spend time together, we're very family orientated and we weren't able to do that," he said.
Cpt Boyd said December was the first time the crew could all get together with their families, with the social interaction a vital part of the brigade.
"It was very therapeutic, because you don't realise how much you miss the interaction that you would take for granted with people."
Cpt Boyd also said this year's storms were bigger than what he's seen in his time living in the area and the 35 years he's been in the brigade.
"I can't remember growing up having these severe storms, you know, that we're getting now.
"Our focus is normally on the fire season, but now everyone's talking about severe storm weather coming in rain and flooding. It's strange Mother Nature is having a crack at us now."
Cpt Boyd is concerned about the repercussions of the pandemic in the years to come.
"I know that we're probably going to be facing a lot more challenges as far as Covid goes, we've got a long way to go, so I just like to see people safe and happy."