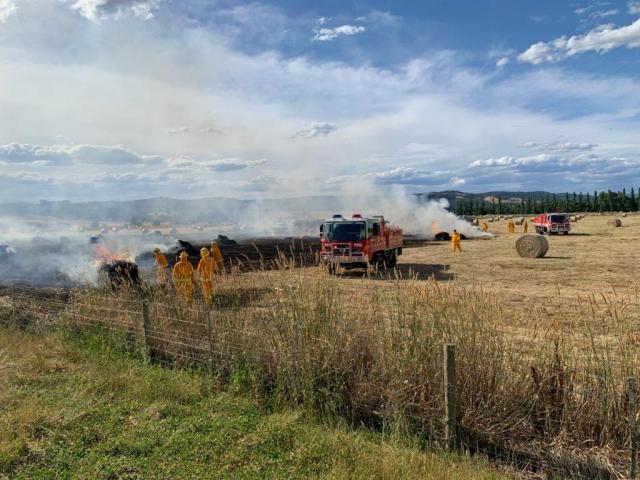 Victorian farmers have enjoyed strong seasonal growth of pastures and crops, but CFA has warned them to exercise caution when cutting, baling and storing hay.
The seasonal outlook for summer, released in late November by the Australasian Fire and Emergency Service Authorities Council (AFAC), showed most of Victoria received average to above average rainfall during winter and spring, but it was followed by a mostly dry December.
CFA volunteer firefighters responded to dozens of haystack fires across the state last year and District 13 Assistant Chief Fire Officer David Renkin said there have already been local incidents in recent weeks as grass has dried out in the area.
Firefighters were called to respond to a grassfire in Macintyre Lane, Yering, as recently as Sunday 16 January after a hay bale spontaneously combusted.
Responding to the call about 4.30pm, volunteer firefighters from Gruyere, Lilydale, Coldstream, Yarra Glen, Chirnside Park and Wonga Park were able to quickly bring the fire under control and establish control lines around 20 large hay bales and a burnt area of about two hectares.
"The crews did a mighty job of stopping the spread of the fire into nearby uncut grass paddocks," Assistant Chief Fire Officer David Renkin said.
"There is definitely a risk of spontaneous ignition in the area, usually caused by people baling hay too soon before it has dried properly.
"Over the last few weeks, we've seen more baling take place as grass dries out, but the intermittent rain is causing moisture."
Spontaneous combustion can occur when hay has either not properly dried before baling, or has been exposed to rain or damp conditions, meaning moisture content in the bales is higher than the recommended levels.
"This can happen to any hay bales, regardless of size, and it is something farmers can help prevent," ACFO Renkin said.
"After baling, make sure you check the heat and smell of the bales before stacking them into hay sheds or large external stacks, and leave any suspect bales separate from the rest.
"By doing so, you're not just protecting yourself from the financial impact of losing valuable fodder, you'll also be helping your local brigade and community as haystack fires often occupy crucial firefighting resources during the season when CFA volunteer firefighters are required to monitor haystack fires for several days to make sure smoldering fires don't spread."