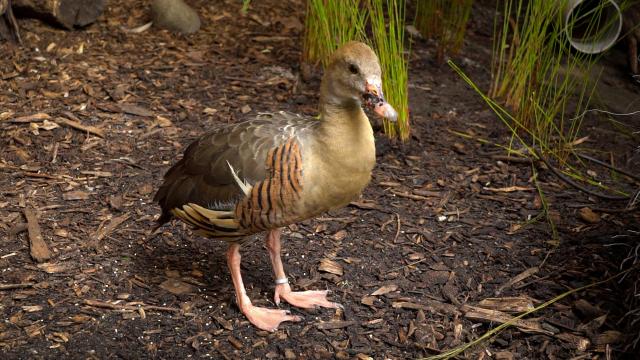 A Plumed Whistling-Duck who is getting on in years has been given a new lease on life at Healesville Sanctuary, with keepers conducting weekly hydrotherapy sessions.
The 17-year-old bird was observed limping in December. Investigation by the veterinarian team at the Sanctuary's Australian Wildlife Health Centre found he had injured a ligament in his leg.
Healesville Sanctuary Keeper Dr Jessica Thomas is now overseeing his recovery using hydrotherapy.
"By generating a current through the water, it increases the pressure that the duck must swim into," Dr Thomas said.
"This means he really has to use his leg and not just float around through the water taking it easy.
"We are already seeing dramatic improvements to his mobility. He is walking well and keeping lots of important muscle tone.
"We have a lifelong commitment to all of our animals here at Healesville Sanctuary, and hydrotherapy has been a wonderful way to maintain that care."
As this Plumed Whistling-Duck becomes more confident with hydrotherapy, he is also being trained for voluntary medical examinations, which will see him allowing vets to look closely at his leg in a non-intrusive way.
17 years is old for duck and Healesville Sanctuary has a lifelong commitment to caring for all our animals.
Plumed Whistling-Ducks can be found in the northern and eastern tropics of Australia, however their range extends into the Riverina region in New South Wales, as well as northern and western Victoria. This brightly coloured duck is known for making a distinctive whistling call.
Visitors can see Plumed Whistling-Ducks on the Wetlands Track at Healesville Sanctuary.
Zoos Victoria members and Healesville Sanctuary visitors are reminded that all tickets must be pre-booked online at zoo.org.au