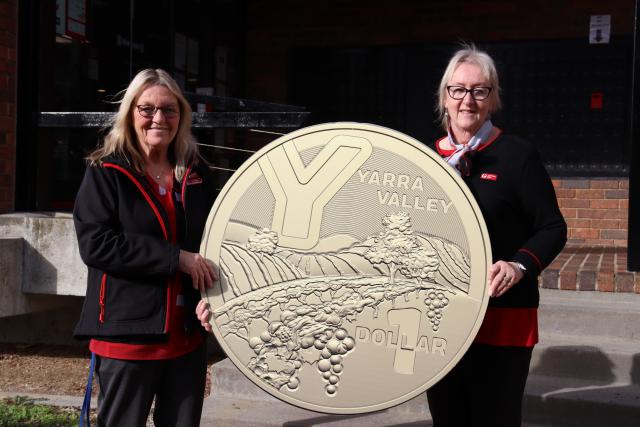 By Mikayla van Loon
The charm of the Yarra Valley has been embossed onto the face of a one dollar coin as part of the Great Aussie Coin Hunt this year.
Representing the letter 'Y', it's a special one for coin collectors, young and old, with Lilydale Post Office seeing a demand for just that coin since the release on 9 May.
Postal manager Lorelle Hull said out of all the 'Y' towns across the country, it was an honour the Yarra Valley was chosen.
"It's just a bit of an honour. Lilydale is the gateway to the Yarra Valley with all the wineries and everything out there and the nurseries so it's nice to be recognised as part of the Yarra Valley," she said.
This year's theme celebrates iconic Australian moments and quintessential emblems of Australian life, with other coins taking the form of Luna Park, vanilla slice, the Great Ocean Road and R.M Williams.
All 26 coins can be purchased in a bundle or collected separately. Some of the rolls of coins even include a random coloured 'X' coin, unique from the rest of the 'X' coins out there.
Ms Hull said one customer has already come into the store having received one of the coloured coins and was overjoyed with the discovery.
A daily $1000 prize is also part of this year's coin hunt, with a QR code on the inside of each roll of coins potentially leading to a win.
In its third year Ms Hull said lots of people have continued their collection from the previous two years but some have just collected first name initials for grandchildren or the 'Y' coin itself.
"It's pretty unique. We've had quite a few people wanting just the 'Y' so I have had to order more of those in. But it's just a keepsake really for the community. To have that 'Y' coin is pretty special."
While the coins can be collected from most Post Offices, Australia Post retail executive general manager Catriona Noble said she hopes this collection brings a sense of fun, adventure and tourism.
"The Great Aussie Coin Hunt is our most successful collectables program and this year we hope it helps to excite Australians about not only collecting each of the unique $1 coins but also discovering some hidden-gem locations and stories in their very own backyard," she said.
"With many of the 26 coins celebrating destinations across each of our eight states and territories, collectors and adventurers of all ages will be spoilt for choice."
Royal Australian Mint CEO Leigh Gordon said he was thrilled to be releasing this new set of $1 coin collectables in partnership with Australia Post.
"Following the enormous success of the last two Great Aussie Coin Hunts, we are excited to once again give families around Australia the opportunity to participate in this fun and engaging national coin hunt," Mr Gordon said.
As the last stop before reaching regional Victoria, Ms Hull said she hopes the coin hunt brings some people to Lilydale and the Yarra Valley but more so she said as "a very close-knit community in Lilydale," the recognition means more.
"It's just nice that the local people here have got their own coin this year."
Avid hunters are encouraged to visit aussiecoinhunt.com.au where they will find more information on each coin's letter, full terms and conditions for the daily giveaway, and an exciting new addition to this year's hunt with an interactive map that includes road trips and travel ideas aligned to each of the 26 coins.