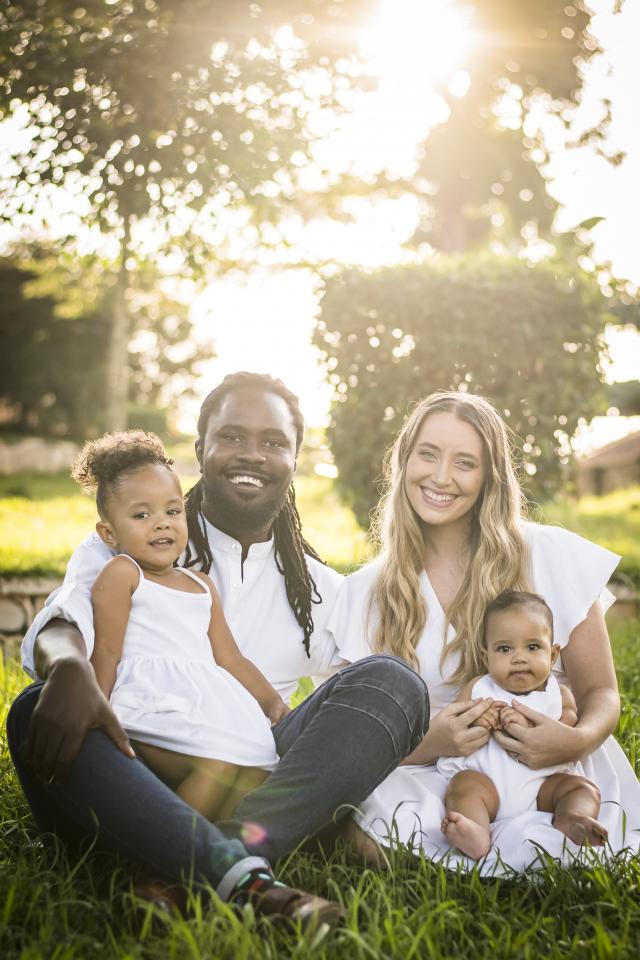 By Renee Wood
Anne-Marie Reddan went to Uganda when she was a teenager and her heart was quickly swept away by the country, people and communities.
When the Healesville student returned during a university gap year nine years ago, Anne-Marie met her now husband, Emmanuel Kusasira Sserwanga, and the pair have since established an educational hub which is making a difference to local youth.
While on holidays to see family in the Yarra Valley, Anne-Marie and Emmanuel sat down with Renee Wood to share the great work Yimba is doing.
When Anne-Marie and Emmanuel met in 2013, the foundation of Yimba Uganda was already there after Emmanuel used his established music career to begin hosting charity concerts.
But Emmanuel hasn't always been able to give back in this capacity, after coming from humble backgrounds growing up in a slum called Katwe in the capital city of Kampala.
"I still have lots of friends and family still living in the slums, you try to look for a way of how you can help them and the only thing I had on my hands was the music," he said.
"So we started putting on free concerts where people were coming in for charity concerts, paying cash, bringing in stuff like clothes, food, and then we would donate those during Christmas."
Emmanuel said his parents went to the UK for work to support their two children through school and during this time his passion for music continued to grow, using his extra time and savings to record music.
In 2010, Emmanuel's music career gained traction, now going by the performance name of 'Coopy Bly', known as one of the most famous Ugandan gospel artists in the country.
Emmanuel said he still never forgets where he has come from and continues to pursue with wife Anne-Marie to help others through Yimba.
After first starting as concerts, Yimba quickly grew in 2014 to become more active in the education sector by delivering free courses such as tailoring and music production to local disadvantaged youth.
Some 9 years later the vocational training hub is still based in Kampala, growing to provide further courses for students aged between 18 and 30 years old.
Over 75 per cent of the population is under 30 with the country having one of the highest youth unemployment rates.
Anne-Marie said the biggest issues they face is a lack of employment opportunities and that's why Yimba is such a sustainable and important service.
"If they are earning their own money through their own business or through getting a job, and they're able to pay their own kids school fees, access to health, medical care – it really breaks that cycle of poverty for future generations in their whole family," Anne-Marie said.
Currently there are 60 full time students at Yimba learning in tailoring fashion design, audio production, mentorship training plus more.
Anne-Marie said adult numeracy, literacy and business training are also accessible through their free courses.
"It's a wholesome approach to the full person so when they do graduate, they really can do something with their lives," she said.
Yimba is not only delivering education, there are other ways the organisation is supporting the community.
During Covid, Yimba raised sponsorships from all over the world to feed families who weren't able to work and were bound to their homes during lockdowns.
A menstrual hygiene management program is another regular part of Yimba's work, providing training and products to ensure females are able to be part of society.
"A lot of young girls in Uganda will drop out of school when they reach puberty or they'll miss a week of school every month when they're menstruating because they don't have access to pads," Anne-Marie said.
"In a lot of our trainings, the girls will say they use newspapers, leaves, foam from mattresses because they don't have access."
This is another way the students are also returning the generosity by the tailoring students creating reusable fabric sanitary items.
Anne-Marie and Emmanuel said within the the courses, they instill in the students that making community contributions is valuable and implore them to put their skills to good use.
"You need to make sure they don't feel like it's just a handout, so they have to be very involved and we find out the best ways for them to give back," Emmanuel said.
The outcomes are evident as the students graduate and move on to start their own businesses – past students are also now working for Yimba as teachers sharing with the next generation.
Other outcomes have also seen tailoring students work with UK businesses and the music students have also started a band and perform throughout the country.
"We are really happy with how it's going, we've seen the effects on these youth lives, it's the dignity of feeling like now they have the means to look after their families," Emmanuel said.
"We're grateful for all the people that are supporting and we are also grateful to the students that actually put in the time.."
Recently the organisation has purchased 13 acres of land on the Nile River in Kayunga, 90 kilometres from the capital, which will provide ample space for expanding the operation.
A bigger vocational training centre is needed as the capital city limits the courses and student intake.
"This will really give us a great platform to be able to branch out into things like carpentry, audio mechanics, catering, baking, and we'll be able to get young people from all over the country to come," Anne-Marie said.
With the new site to be away from potential student's homes, the expansion will also need to offer sleeping accommodation.
This will have benefits to allow students from across the country to travel and learn a new skill, taking that back to their regions.
"At the moment because we are focusing our courses at vulnerable youth, they have to be within walking distance to our centre because they can't afford to transport themselves," Emmanuel said.
"You are flooding the local community with lots of tailors and beauticians and hairdressers, so it'd be better if we're in a rural location where we can bring young people from all over the country. They learn the skill, then they go back to their communities and they take that skill back."
The expansion would see Yimba increase to offer placements to around 300 students a year coming for six and 12 month courses.
"This young person who was seen as a nobody in their families, [is now] the one sending their siblings to school sending their kids to school, and it's just amazing to see the transformation in their lives," Anne-Marie said.
The target for this year is to raise $200 thousand to start the first phase of the relocation which could see carpentry workshops and staff accommodation established on the site.
Anne-Marie knows all too well being from Healesville now living on another continent just how connecting communities across the globe can be.
With Yimba although in another country, there's still opportunities for Yarra Valley residents and businesses to support its growth.
Financial donations help to support the training hub, however volunteering, sharing expertise and skills are also highly valued to Yimba.
"It's amazing to have different tradespersons and specialists in builders or hairdressers …to come over and run workshops with our teachers in our classes," Anne-Marie said.
"You could have trainees come over and volunteer and help in the construction of the school while teaching carpentry, metalwork students and things like that."
"Not only offering those business skills and mentoring to our young people, but also to us and all of our staff who run the organisation too. So there's so many different ways people can support that goes beyond just finances."
"Come and share your ideas. It's always good to have that external eye view on things, because it breaks the bubble a bit," Emmanuel said.
"We also want to invite so many other people to come along, and Uganda is a beautiful place and you will not regret it. One thing you should know as you come to Uganda you will always come again."