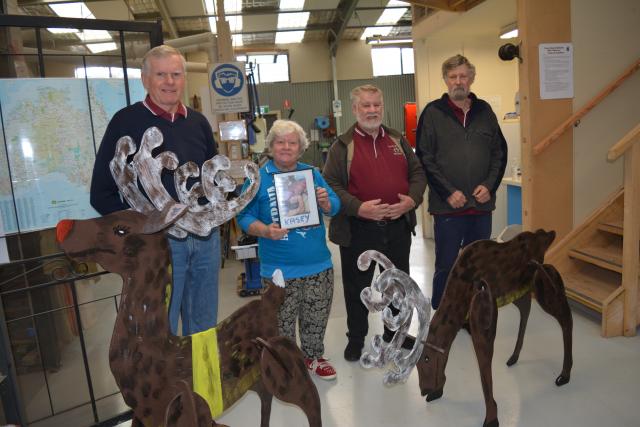 by Renee Wood
The Yarra Glen Men's Shed has been a part of creating two special reindeers for a young girl who's currently undergoing treatment for stage four cancer.
Kasey was diagnosed with Wilm's Tumour, a childhood kidney cancer which has spread to her lungs, in December last year.
Kasey's grandmother Diane Roberts, a Yarra Glen local, enlisted the local Men's Shed to assist in finishing the special reindeer sculptures.
The Bittern Men's Shed first built the reindeer in December and placed them outside Casey's window to make her smile after they learnt of her condition.
"It was the last two and they wanted her to have them," Ms Roberts said.
They were placed outside Casey's window at her home in Bittern so she could see them as she drove home from hospital and when she looked out the window.
However, the reindeers weren't painted and were left in the weather, with Ms Roberts asking her local Yarra Glen Men's Shed if they could help to restore them.
"My daughter, she's in and out of the hospital all the time, she had no way of painting them herself."
Sid Bouma and Russell Lumsden worked together to get the wood back in good shape before David Brimelow painted them.
Mr Bouma said it brings a lot of pleasure to the men to give back to the community in ways like this.
"We felt really compassionate for this young girl who has a serious illness and there's a group of men here that love getting involved in small projects and we're fairly handy here with our hands and it brings a lot of pleasure to us and it gives back to our community," Mr Bouma said.
Ms Roberts was grateful to both sheds for their hard work in honour of Kasey.
"I'm overwhelmed really, the community both down there in Bittern and also here in Yarra Glen has been absolutely wonderful," she said.
Kasey's currently continuing chemotherapy and since her diagnosis has had her kidney removed.
A gofundme page has been set up to support Casey and her family during this time gofund.me/05ffdf18