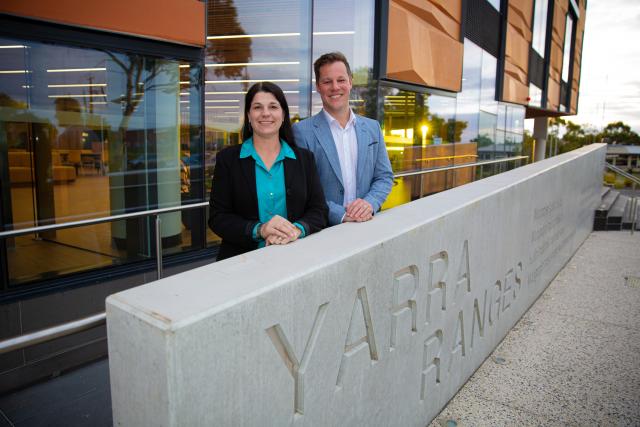 By Mikayla van Loon
After just three years serving the Yarra Ranges community as a councillor, Sophie Todorov has been elected as the new mayor for 2024.
The Melba Ward councillor was nominated at the Tuesday 14 November council meeting by Johanna Skelton and will serve alongside David Eastham who was elected as deputy mayor.
"I'm just so proud to have this position and my fellow councillors are confident in my abilities and who I am and what my aspirations are for the councillor team and our community as well. So I'm really proud to have this opportunity," Mayor Todorov said.
Initially just wanting to "do my job really well as a councillor" and not really envisioning filling the position, Mayor Todorov said having the opportunity to become deputy mayor last year gave her a taste for what the role of mayor would look like.
"That was the catalyst for growing my capability, confidence and skill set to the point where I put my hand up for mayor this year," she said.
"I've learnt a lot over the last 12 months being deputy mayor to councillor Child as well. So that's really assisted."
Extremely grateful to have had the guidance and mentorship of Cr Child, Mayor Todorov said it is invaluable to have access to such an experienced councillor to turn to for advice.
Over her year-long term, Mayor Todorov said she would like to be a community representative who is "really full of energy" and someone who really fosters connections.
"I just believe in the connection of communities. To me that's so important, that drives the health and well being of any community," she said.
"We saw even after the pandemic, the one thing that rose as a concern was social isolation."
Wanting to meet, engage with and hear from all people, Mayor Todorov said she will aim to get to as many events across the municipality as possible and really encourage "deliberative engagement" when it comes to the council's plans, strategies and future projects.
"[I'm looking forward to] being involved with as many opportunities and events as my hours in the day will allow me.
"To be part of the community alongside them and celebrating all our achievements as well and then being there to support those who aren't travelling so well."
Passionate about improving access and bettering the outcomes for people, Mayor Todorov said it comes from having a "proactive approach to community, not reactive".
"I come from a background of doing a lot of volunteering in community, working with young people, understanding the diverse needs of community.
"I'm really passionate about such things as mental well being and just being healthy and active out there in the community."
Some of the major items to be delivered in 2024 include the housing and aquatics strategies, as well as continuing to work on the council's reconciliation action plan.
"I'm really passionate about that connection to Indigenous culture and history here, which is what makes Yarra Ranges so unique," she said.
"We're looking at the ongoing use of fire stick burning as a way to look after our environment and acknowledge those Indigenous historical practices as well…to invite in that culture to be part of what we're recognised for in looking after our Country and having that custodianship.
"We're all custodians of this Country, and we owe it to care for it, too."
Mayor Todorov will be supported by Cr Eastham as he steps into the position of deputy mayor again after holding it for a term in 2020-2021.
He said he looked forward to working even more closely with the new mayor, community and taking on the challenges that lay ahead.
"To be representing Yarra Ranges Council in the role of deputy is a role that has a lot of responsibility, and it is an absolute honour and privilege to be elected as deputy mayor," Cr Eastham said.
"I look forward to working with Cr Todorov over the next twelve months and look forward to having a partnership with you to better represent the organisation and more importantly to ensure we have and deliver the best outcomes for the community."