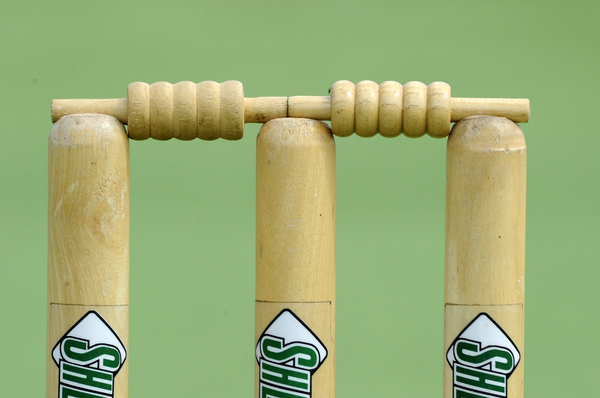 By Chris Anderson
As with any sporting competition with post-season finals action, the hope is that the race for finals positions and the premiership race goes deep into the season, adding interest and intrigue.
This is certainly looking the case with two rounds to go in the Yarra Valley Cricket Association's top Grade, DJ Strachan Shield.
With Mount Evelyn clearing away on top, two games separate second to sixth with most a realistic chance to claim as high as second on the ladder.
Healesville hosted Seville in what turned out to be an absolute classic clash.
Seville batted first on day one, and both teams would've been comfortable with their standings after day one as Seville were bowled out late for 171.
Seville has been in commanding form with the ball, so even a total short of par looked defendable, while Healesville had found some much-needed form and resolve with the bat in recent weeks.
Day two started true to form.
Healesville showed great resolve with the bat against a miserly Seville attack which leaked nothing.
Seville's season has taken a dramatic upturn with the unlikely pairing of Marcus Smith and Liam Kay taking the new ball.
Opposition top orders haven't particularly dealt well with the lack of pace, and disciplined jones and lengths the pair offer.
The first half of the innings was a real grind.
Healesville showed real grit and application early with Brenton Damrow and Max Minney setting course for a dogged chase.
Kay finally made the breakthrough, removing Minney, and when he had the dangerous Ash Hamer out for a duck in his next over, the home team was in early bother.
Smith's figures were remarkable – 0/16 off 19 overs which included 12 maidens – while Kay was equally as effective at the other end.
Taking Damrow's lead, Ben Wallace joined the opener in a marathon innings where neither side gave an inch.
The Bloods had identified that they needed to take this innings deep into the second day if they were to succeed.
No wickets fell for the next 30 overs, but the screws remained tight as only 47 runs would be conceded during the same period.
Damrow finally fell to Riley Foster for a patient 34 which had his team set for the chase home.
Dale Senior (43) upped the ante.
Jayden Lawry threatened briefly, but as the runs started to flow off the bat, so did regular wickets fall.
Senior's wicket with the score on 8/155 with five overs remaining was the lethal blow as Kay and Mark Sandfort closed out the innings.
The Bloods fell agonisingly short, three runs with three balls to spare.
Liam Kay was the pick of the bowlers once again, showing maturity beyond his age as he bowled 28 unflustered overs to finish with figures of 4/61.
Mark Sandfort again cashed in on the work of his openers as Healesville's lower order couldn't contain his accuracy as his three wickets were either bowled or adjudged LBW.
Seville has now, more than likely, moved to second on the ladder with some serious momentum.
The Blues will finish the season with clashes against Wandin and Yarra Junction and, on recent form, look set to clinch a home final.
Healesville on the other hand, now have a hard road ahead if they are to clinch a finals position.
They finish the season with Yarra Junction and Warburton-Millgrove and will need two wins, and results to go their way if they are to clinch a finals berth.
Mount Evelyn put a few disappointing weeks behind them to completely outclass Yarra Junction on the second day of their clash at Mount Evelyn.
Yarra Junction owned day one as they cashed in on a misfiring Mount Evelyn batting outfit to have them teetering at 9/141 overnight.
Rain curtailed a fair proportion of day one, so there was plenty of cricket to be had on day two.
The Eagles made the perfect start, removing the last wicket in the first over of the day leaving them with a manageable chase of 143 for victory.
Kocher fell early and after a fairly tight opening few overs, Kevin Bomford shook the shackles and looked a real threat to making a mockery of the chase.
After a quick-fire run-a-ball 30, Bomford was Darcy Fraser's second victim, and the wheels progressively fell off for the visitors.
With Kane Jones and Chad Witherdin taking up the attack, the Eagles fell from 1/35 to 8/45 to effectively end the contest in relatively quick time.
Brad Nightingale and Terry Ottrey would show some fight either side of the lunch interval to fly the flag, but the result was a foregone conclusion after Bomford's wicket and the Eagles were bowled out for a disappointing 86, well short of a winning target.
Mount Evelyn has secured top spot and a home final.
After a scratchy couple of games with the bat, they will look to show more discipline, focus and application with the bat against Warburton-Millgrove and Wandin over the closing rounds.
If they don't, the chasing pack will soon close with much confidence.
Yarra Junction also needs to find some consistency with the bat over the remaining rounds if they are to announce themselves as a serious threat to this season's title.
The big fizzer of the round was the clash between Wandin and Warburton-Millgrove.
After losing day one to rain, the game reverted to a one-day clash and promised to be an exciting one as both teams had something to prove.
For Wandin it was the opportunity to claim a hold onto second place while again proving they are a legit contender, while for the Burras, who had slipped to the foot of the table, they needed to win to stay in touch.
With a proud history, it was the Burras who owned this contest from go to woah.
Wandin duly elected to bat upon winning the toss, but that would be where the joy ended.
Stuart Thompson (3/23) and Bailey Humphrey (2/3) made early inroads with the ball that the Bulldogs couldn't recover from.
Rhett Smith and Rob Henderson would combine with some lusty hitting that could've stretched the total towards three figures, but it was too short-lived and the home team was skittles for 67.
Warburton-Millgrove weren't about to let this golden opportunity slip as they cruised to the total with the loss of just one wicket inside 20 overs.
Finn Saurine (20) and Tyson Walker (18*) ensured there would be no early wobbles, while Liam Barnard (27*) blasted them to the total in quick time.
Such was the nature of the win, Warburton-Millgrove gained some important percentage points, while Wandin's will take a significant dent which could prove crucial when the dust settles on this home and away season.
A rejuvenated Warburton-Millgrove will face Mount Evelyn and Healesville to close out the season.
At least one win would be needed to clinch a finals berth, but a big showing against the top dogs will be crucial for confidence and form.
Wandin is now back with the pack.
They have most likely coughed up second place and are now in some danger of missing finals all together.
They face Seville and Mount Evelyn – two tough, in-form teams and they will need a considerable lift from this round's performance or they will be on the receiving end of two losses and possibly out the door before finals.
DJ STRACHAN SHIELD
Mount Evelyn 10/142 (K. Jones 60, C. Witherdin 34*, K. Bomford 3/16, C. Hrabe 2/16, B. Nightingale 2/16) d Yarra Junction 10/86 (K. Bomford 30, B. Nightingale 22*, K. Jones 4/9, C. Witherdin 3/11, D. Fraser 3/42)
Seville 10/171 (A. Kay 45, M. Smith 16*, J. Poynton 3/33, A. Hamer 3/39, D. Senior 3/44) d Healesville 10/168 (D. Senior 43, B. Damrow, B. Wallace 23, L. Kay 4/61, M. Sandfort 3/27, D. Healy 2/21)
Warburton-Millgrove 1/70 (L. Barnard 27*, F. Saurine 20, T. Walker 18*, L. Chander 1/38) d Wandin 10/67 (R. Smith 27, S. Thompson 3/23, B. Humphrey 2/3, A. Nelson 2/9)
RA FINGER TROPHY
Gruyere 9/160 (J. Harding 58, J. Carroll 36, M. Hodgetts 26, M. Hadlum 5/20) d Seville 7/153 (L. Corbett 52, A. Dipietro 24, G. Sweeten 3/11, A. Vassallo 2/45)
Coldstream 10/138 (D. Ollife 33, D. Pezzimenti 18, D. Whelm 15, C. Dikschei 15, R. English 5/38, M. Jackson 4/37) d Healesville 10/100 (J. Betts 26, J. Plunkett 17*, D. Wheelan 4/14, M. Pezzimenti 2/27)
Woori Yallock 6/154 (M. Dwyer 58*, R. Smith 37, J. Young 20, R. Wilson 2/28, T. Williams 2/52) d Mount Evelyn 10/151 (M. Potter 25, T. Williams 24*, C. Ferguson 4/13, J. Young 2/20)
Yarra Junction d Wandin (forfeit)
C-GRADE
Seville 8/186 (G. Foster 52*, D. Dipietro 28, D. Knight 26, C. Andrews 3/38, J. Birnie 2/29) d Launching Place 84 (J. Kuth 23*, T. Van Veen 5/31, C. Tanner 3/23)
Wandin 5/122 (D. Marshall 38*, D. Trembath 26, M. Darvell 26, D. Walker 3/28) d Warburton-Millgrove 8/118 (M. Walker 32, D. Cerveri 20, N. Galante 3/23, D. Trembath 3/32)
Yarra Glen 152 (T. Davey 33, J. Orren 28, C. Piggott 6/36, S. Hill 2/10) d Marysville 148 (K. Fiske 25, C. Piggott 23, J. Orren 2/9, S. Fordham 2/16)
D-GRADE
Mount Evelyn 7/249 (TJ. Hancock 58*, J. Thompson 52*, C. Williams 50*, G. Foden 2/29, C. Foden 2/40) d Wandin 8/237 (G. Gosland 53*, C. Foden 50*, G. Foden 35, C. Williams 5/28, P. Williams 2/38)
Warburton Millgrove 9/199 (M. Newell 51*, D. Geary 46, D. Hagger 28, C. Newell 24, G. Vukman 2/16, P. Healey 2/47) d Hoddles Creek 10/106 (M. Cooper 28, M. Newell 4/10, C. Newell 2/16, D. Haggar 2/24)
Seville 6/246 (B. Pereria 52*, S. Buckle 45, W. Knowles 41*, D. Falconer 2/36) d Launching Place 97 (R. Culwick 4/8)
Powelltown 8/151 (M. Clue 27, B. Dunne 23, C. Anderson 5/26 including a hat trick, J. Drummond 2/32) d Healesville 6/132 (B. Louw 40, L. Caldicott 34, P. Dunne 4/40)
Yarra Junction 3/130 (D. Robertson 50*, S. Jordan 19*, D. Sharp 1/14) d Coldstream 2/121 (D. Sharp 50*, L. Robertson 25, D. Lever 2/12)
16 AND UNDER
Healeaville vs Coldstream 7/160 (A. Steele 51*, D. Pezzimenti 40, S. Gebert 4/10)
Warburton-Millgrove 3/73 (T. Nicolandos 23*) vs Yarra Glen 42 (BJ. Humphrey 4/8, B. Olcorn 3/13)
Mount Evelyn/Launching Place 9/85 (S. Vanhoogstraten 24, B. Shepherd 14, L. O'Dea 4/24, R. Foley 2/27, M. Berry 2/10) vs Yarra Junction/Gruyere 6/55 (R. Foley 20*, L. O'Dea 14, J. Chamberlin 4/16, B. Podesta 2/10)
UNDER-14
Seville 35 (H. Smith 13, E. Crowley 2/3, R. Haymer 2/3, D. Walker 2/0) vs Warburton 4/65 (R. Thompson 20*, R. Thompson 18*)
Healesville 2/26 (H. Baxter 6*, L. Payne 1/0, J. Friztlaff 1/5) vs Hoddles Creek 10/102 (J. Friztlaff 31*)
Yarra Junction defeated Mount Evelyn/Coldstream (forfeit)