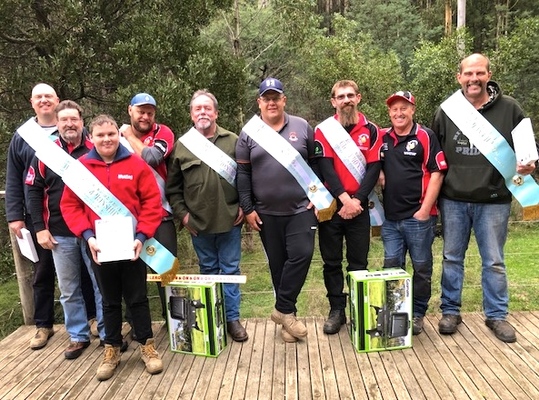 By John Wood
April at the Woods Point Gun Club saw the largest single event of the year, 100 targets Double Barrel Championship.
Anticipating a large roll-out, the obligatory Eye Opener started at 9.30am as soon as the first shooters rolled in.
Eight members of the Mornington Gun Club attended, resulting in a busy day with some great shooters on the tracks.
The AA-grade cash was shared between Cranky McCall, Cameron Trevitt and Phillip Desmond, all returning 30/30 scores.
A-grade, B-grade and C-grade had one winner only in each grade, David Allen 30/30, Geoff Hill 25/30 and Justin Broderick 27/30 respectively.
The 100 target event was shot over two rounds, 50 targets before lunch and 50 targets after, all from the common handicap mark of 15 metres.
Conditions were fine, overcast to start with then sunny later in the day.
No rain and little wind.
Rob Bevis, Cranky McCall and Daniel Chinn were the early leaders before lunch with 48/50 each closely followed on 47/50 by Mark Zielezna, Cameron Trevitt and Anthony Kirley.
David Frazer was hot on their heels, returning 46/50.
After a hot and substantial barbecue lunch, combat started afresh with Frazer in the first squad returning a good 48/50 for a total of 94/100 and McCall in the next squad also returning 48/50 to put him in the lead, 96/100.
Trevitt posted another 47/50 for a total of 94/100 also.
Part-way through the next squad the clay target thrower started to malfunction so the shoot was halted while the problem was investigated.
It was decided to replace it with the spare trap, so after about 20 minutes play resumed.
Chinn, who was in this interrupted squad, retained his composure to score 49/50 giving him a strong lead on 97/100 with Anthony Kirley the only shooter left who would be able to match his score.
Kirley had to achieve a 50/50 to win the event or 49/50 to tie.
Unfortunately his final return of 44/50 putting him out of contention.
So club secretary Daniel Chinn, who was pretty busy in the office all day, managed a clean win of the 100 target Double Barrel Championship, 97/100.
He won the championship sash, the AA-grade prize of a portable gas barbecue and a tray of meat to use on the barbecue as well.
Cranky McCall (96/100) took second place in AA-grade.
David Frazer (94/100) took first place in A-grade with Mark Zielezne in second with 91/100.
Geoff Hill took B-grade (91/100) with Peter West in second place (80/100).
C-grade was another win on the day for Justin Broderick, 84/100 from junior shooter Danny Bennett for his first championship sash, 80/100.
The next shoot at Woods Point is on Sunday 26 May, the Jodie Poile Memorial Continental Championship and the Howqua Mixed Targets and Double Rise championships.