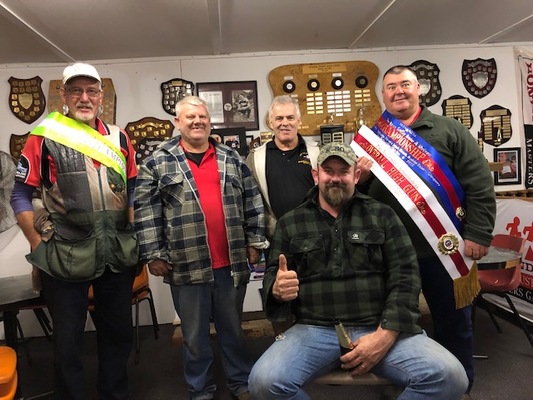 By John Wood
An early start was needed for the championships at the Woods Point Gun Club on Sunday as it was the shortest day of the year.
The first shot in the eye opener was fired shortly after 9.30am while competitors still kept streaming in.
Mornington Gun Club again presented a full squad of members, as did Mansfield with Morwell and Frankston/Australian their clubs as well.
Weather conditions were freezing cold with no wind or rain but overcast with a gloomy background that made seeing the targets problematic at times, as can be seen by the scores.
Mornington club president Kranky McCall was successful in the eye opener, returning a perfect 30/30 to take AA-grade outright, Ken Skinner taking the A-grade cash with 27/30.
Steven Howlett's 28/30 was enough for B-grade while Tom Apps and Justin Broderick shared C-grade with 23/30.
The main event was a 40-target double barrel, with Robert Bevis scoring 40/40, the only other perfect score on the day to take the sash outright and the AA-grade prize as well.
David McGregor was second in AA with 39/40.
Meagan Graham won A-grade with 35/40 from Ken Skinner in second (33/40) while in B-grade Steven Howlett had another success (38/40) with Geoff Hill second (36/40).
Ned Northover won the C-grade prize (32/40) from Justin Broderick (29/40).
All clubs attending had members on the winners' list in this event.
Event three was the 20-target handicap that saw Laurie Poile come out as a clear winner of the championship sash with 18/20 and a one-metre handicap added to his card.
Tom Apps picked up the pace to take second place (17/20), Cameron Trevitt third (19/23) after a short shoot-off with fourth-placed Steven Howlett (18/23).
There were quite a few 15/20 and 14/20 scores that showed how difficult the shooting conditions were.
The final event was 15-pair auto and driven where two targets were released simultaneously, one flying away from the shooter and one scorching right to left across the front of the shooter from a trap hidden below the river bank.
Good shooting skills were needed with tricky targets, but it was a whole lot of fun.
Phillip Desmond at last managed to get his eyes attuned to the gloomy background to return a great 27/30 to win the sash and AA-grade as well.
Daryl Ewert was second in AA (24/30).
Meagan Graham had another A-grade win with 19/30, Ken Skinner second.
Geoff Hill's 24/30 was enough for B-grade with Laurie Poile relegated to second place (23/30).
C-grade saw a good win for Justin Broderick (18/30) from tyro shooter John Desmond (16/30).
Phillip Desmond cruised through the day but his auto and driven score saw him take a narrow win for the high gun sash (76/90) from Rob Bevis (75/90).