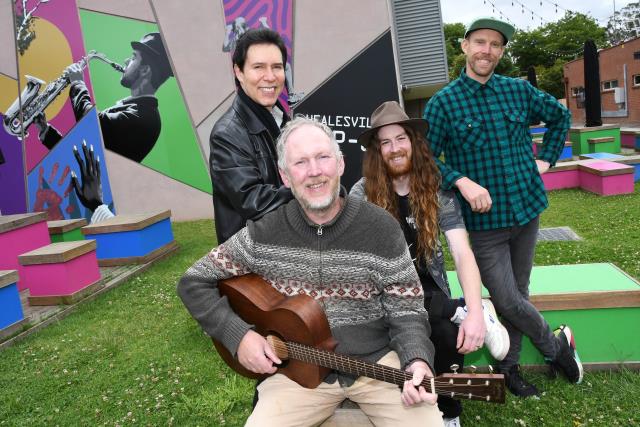 By Renee Wood
Nothing sounds better than grabbing your morning coffee and sitting down listening to some live local music – and now the community can do just that next Saturday and Sunday 18-19 December.
Ash King from Jamalama Music has created a special pop up event to showcase artists on the stage at the new 'Healesville Pop Up' area behind The Memo.
"The concept is basically that you go to your favourite local cafe, grab a coffee, and then wander over and just chill out, listen to local Yarra Valley artists, and enjoy this sweet new space that's been created," Ash said.
"A lot of our performers are all original singer songwriters as well, writing their own tunes, about various things."
Local music artists Peter Read, Josh Bain, Trev Dwyer will be playing 10am-11.30am on the Saturday, and Szara Fox, Andrew Darling and Gio and Kath will be playing the same time slot Sunday.
"I've got a new song to share and I haven't played in quite a while due to Covid so it will be great to start again and reconnect with people," Joshua Bain said.
"I woke up at three in the morning with this tune in my head because it's on my phone. In the middle of the night. The next I write the song no chorus came to me so it's good."
The event will be utilising the new Healesville Pop Up space behind the Memo, which was recently created by the council.
Artist Paul Sonsie was also brought on board to bring the area to life with his vinyl artwork.
"I've depicted people playing music, people playing, people relaxing and a little bit of culture in the in the piece so the space is open for interpretation really," Paul Sonsie said.
The Morning Cuppa Series will only be held on the two days but more
"Music is a great medium to really activate a space or any performance, and I like the element of surprise.
"You're going to be walking past with your morning coffee and wonder, what's going on there? It's you the element of surprise. It reflects back that it's a great community to be part of, people want hidden surprises, not to have everything so forced."
The free event's being presented by Jamalama Music, with help from Yarra Ranges Council, Healesville Music Festival and Yarra Valley Musicians Collective.