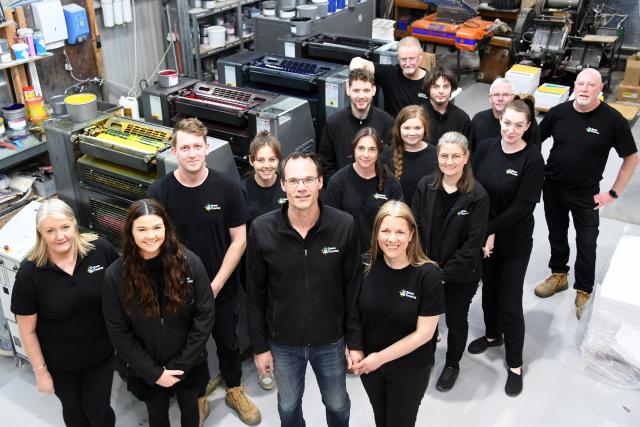 For over five decades, Breen Printing, a trusted name in the printing industry, has been delivering quality printing solutions across Australia. As we celebrate our 50th anniversary, we reflect on our journey as third-generation owners and express our gratitude to the community, our dedicated team, and our loyal customers who have contributed to our remarkable growth.
At Breen Printing, we specialise in providing tailored printing solutions to meet your unique needs. Our team, with extensive expertise in both digital and offset printing, is committed to helping you with design, colour selection, and paper choices to ensure the best results for your project. From conception to completion, we manage your print project with precision and care.
We are passionate print enthusiasts, often referring to ourselves as "print geeks." We take pride in educating our clients on file preparation, stock solutions, printing methods, and the intricacies of our state-of-the-art equipment.
Our dedicated team of 14 and counting forms the heart of our operation. Their unwavering passion for print and collaborative spirit make us a well-oiled machine. Visitors frequently comment on the energy and synergy they feel within our team.
At Breen Printing, we adopt a solution-oriented, collaborative approach to every project:
We work closely with clients to ensure their values are incorporated into the final product.
Meeting timelines is a top priority, and each project undergoes rigorous quality checks before dispatch.
We genuinely care about our clients' outcomes, striving for excellence in every print job.
To express our appreciation for the local community that has contributed to our success, we are offering a unique opportunity to explore our facilities through open house tours in October. Book your spot early to avoid disappointment.
As part of our commitment to growth, we have embraced new technologies and software in recent years. Additionally, we've created three new roles, providing employment opportunities within the Yarra Ranges Region.
To commemorate our 50th year in the industry, we hosted a memorable event at the local races and prepared show bags for our community.
It was a day filled with joy and gratitude as we celebrated alongside VIPs who have played a pivotal role in our journey.
We are excited to announce the installation of a new flatbed printer, allowing us to fulfill the end-to-end printing needs of our local clients. With the upcoming Spring and Summer event season, we stand ready to produce marketing and promotional materials, including event signage, corflutes, labels, flyers, booklets, and more.
As we continue to grow, we are eager to share our success story with the broader community, demonstrating our relevance in today's ever-evolving world. Breen Printing remains committed to delivering exceptional printing solutions and looks forward to the next 50 years of serving our valued clients.
11 Hunter Road, Healesville
info@breenprinting.com.au
Phone: 5962 5177 Open Mon-Fri 8.30am – 4.30pm
Join us in celebrating 50 years of excellence in printing, and let us partner with you to bring your printing projects to life.