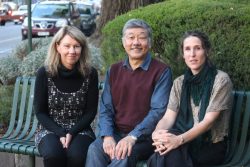 By Kath Gannaway
A Healesville Rotary Club sponsored program aims to empower women through a series of workshops starting in June.
Holistic counsellor Marimba Wilkie and psychotherapist Jan Alexander will team up to facilitate the five-week program which comes from their own passion for empowering women to take control of their lives.
Marimba said they saw a gap in which the services provided to meet the needs of a broad spectrum of women in the community was essentially reactive.
"We want these workshops to be open to all women who would like to do some work around their own empowerment, not solely for women where there has been family violence," Marimba explained.
"We have set up the program for any woman, there may be some trauma, extreme trauma, or no trauma at all."
Jan said the program had been set up to accommodate individual women at any level of creative expression to share a space and experience, working around their own empowerment.
"My focus is on the inner workings, what happens within the psyche using story, myth, archetypes; linking into a bigger picture.
"It's not just about the individual, but about the bigger story," she said.
The women say while it is about providing tools of empowerment, it is about being creative and discovering where each individual is at in a safe and open environment.
"It's about being comfortable with yourself, loving yourself and being OK with where you are at," Marimba said.
Jan and Marimba say the project is not aimed at addressing the physical or financial needs of women, such as safe housing or financial services, but they can help direct people to the resources they may need.
They thanked Rotary for the opportunity to present the pilot program to women in Healesville and said the Rotarians were open and interested in the program.
"Whatever woman comes and experiences this type of empowerment, (she) will take that out to the world and empower others as well," Marimba said.
The workshops will be held in Healesville starting on Friday 2 June and are free.
Places are limited however, so bookings are essential.
Phone or text Jan on 0408 673 820, or Marimba on 0401 454 365 to find out more about the program.