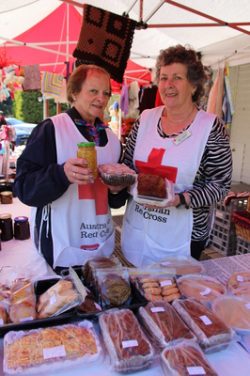 By Kath Gannaway
Hoddles Creek Red Cross members are old hands at their own style of 'Big Cake Bake' doing regular bake-ups for their monthly stall.
The group holds a stall on the first Saturday of each month in the Launch Fresh car park at Launching Place to support Red Cross projects, and the home-made cakes are always a big seller.
Proceeds from Saturday's stall will go to the Red Cross 'Big Cake Bake' fund-raiser which is running throughout October and encouraging Australians everywhere to bake for a good cause.
In its sixth year, Big Cake Bake ambassador Rowie Dillon is encouraging bakers to embrace, in particular, gluten-free baking as they join thousands of others in bake-offs and afternoon teas around the nation.
"Having friends who are gluten or dairy free isn't a hassle anymore as you can make something absolutely delicious with a little know-how and experimenting. That means more people can bake, and be spoiled with some treats, all for a good cause," Ms Dillon said.
Registrations are now open to take part in Big Cake Bake which culminates in a national celebration on Friday 27 October. Events can be held anytime throughout October.
An extensive recipe collection is available online (bigbakecake.org.au) to inspire an expected 12,000 people who will don their aprons, and get together with friends, family and colleagues, to bake and raise funds for Australian Red Cross and its vital everyday work.
Register at bigcakebake.org.au for tips and support to help you plan a bake-off or afternoon tea for the Red Cross.