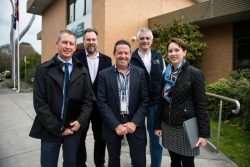 By Kath Gannaway
With the Victorian State Election just over a year away, calls for a commitment to improved bus services for Healesville and Yarra Glen are building.
Yarra Ranges Council in July spoke out on the need for improved bus service coverage linking the urban areas of the shire with the valley and hills areas, saying improved public transport was crucial for the Yarra Ranges to thrive socially and economically.
In addition to the need for safe footpaths linking communities to existing services, Deputy Mayor Len Cox said investment was needed to meet the shortfall in bus services, pointing to access and frequency and hours of operation as substantial issues.
"Bus services should have regular frequencies that are easy for our community to understand and easy to access in terms of infrastructure," Cr Cox said.
"Cr Tony Stevenson said the shire needed more buses to connect with Lilydale railway station and buses to connect people with key employment areas such as Kilsyth.
Among a number of bus service improvements the council is supporting as part of The Eastern Transport Coalitions (ETC) Commuters Count campaign are additional evening services on weekdays and additional services on Sundays for Healesville's Route 685 – Healesville to Chirnside Park.
According to Brad Sanders, general manager of McKenzies Tourist Services, which has the government contract for public bus routes servicing Healesville and Yarra Glen, the Maroondah and Melba highway services are long overdue for an upgrade.
The current system is very much the same as when the train service was abandoned in 1981.
"There have been plenty of bus service reviews, but no changes implemented," he said.
He says the greatest need is for direct services from Healesville to Lilydale.
Most buses go Healesville/Yarra Glen/Lilydale – and return with a couple of services running straight down Maroondah Highway at peak hours.
"At the moment, there are lots of businesses along the Maroondah Highway that we just can't cater for in terms of both tourism and employment.
He says increased housing development in Yarra Glen over the past decade supports a direct service, and adds there is talk also of the desirability from a tourism perspective of including the successful Yarra Glen Chocolataire on a route to cater for public transport users wanting to visit the high-profile drawcard.
Although current services to Badger Creek are well patronised, tweaking that route could also have benefits for visitors to another tourist icon, Healesville Sanctuary.
Mr Sanders said currently the bus that services the Sanctuary deviates along Wallace Parade.
Visitors wanting to go to the sanctuary, and returning, are looking at two and a half hours each way with buses going via Yarra Glen and Wallace Parade.
Mr Sanders said ideally, they could run the Badger Creek bus direct from Healesville to the sanctuary and via Wallace on the return journey for the locals to get in and out.
He said the increase in road traffic was evident and there was a real argument for providing more public transport to meet the needs of commuters who were without their own transport, and to alleviate the growing congestion on the roads.
The last bus out of Lilydale during the week is 7.55pm and 9.25pm on Friday and Saturday nights, a time frame that no longer meets the needs of people working outside 9 to 5, and in particular young people wanting to socialise away from the valley.
The question of demand is a difficult one, he says, but he believes streamlining services and increasing the number and frequency of buses would provide options.
"We don't know the true level of demand because at the moment they are not being used where they don't meet people's needs.
"If we can give a service that more adequately meets those needs, we could absolutely see an increase," he said.
Mr Sanders would like residents to think about how they could use an improved service, and provide feedback on what changes they would need to make public transport more relevant to their needs.
Have your say at https://www.yarraranges.vic.gov.au/Lists/Latest-news/Improving-bus-service-coverage-frequency-and-access .