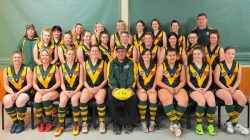 By Effie Caloutas
The Yarra Junction Women's Football Club is heading into its second season with renewed confidence.
The club formed in November last year and is the only women's team playing in the Upper Yarra region.
Now, with a first season under their belt, the club is looking to further build on a successful launch and is calling on more participation this pre-season.
Last year they started only with a couple of women attending training in November, but there was a dramatic change after Christmas when there were 30 different women playing football throughout the 2017 season.
Junction Eagles footballer Georgia Strahan said having a girls' team has had a positive impact on the women playing the game.
She is looking forward to having more girls play next season.
"The new women's club has had a positive impact on the women playing and we think it will continue to grow in years to come," she said.
"We are focusing on having girls' teams and an under-18s team to learn from our senior women."
Strahan said she is proud of the development of the senior girls throughout the season and being the first team in the Yarra Valley.
"A couple of the girls couldn't kick a footy at the start of the year and at the end of the year we had our captain secure her third best-and-fairest in the league," she said.
"We are pretty proud to have the first team in the Yarra Valley and be successful."
Coach Dom Tesoriero says he is proud of what the girls have achieved this year.
"The girls have adapted really well as the year progressed. They have been able to grasp what I have been able to teach them," he said.
"As a coach, it was pleasing to see what you have put forward to them and we were able to do it."
Tesoriero says it was a slow process in providing the girls with the basic skills needed to play the game, however, were able to grasp the skills quite easily.
"It was about repetition, giving them the basic skills and then adding ovation skills such as how to bump and always looking after your head," he said.
"Having coached the junior boys at Yarra Junction for over 10 years, I have found that the girls were able to pick up the game a lot easier."
Pre-season training takes place on Wednesdays at Wickhams Oval.
For more information, call Georgia Strahan on 0425 459 370.