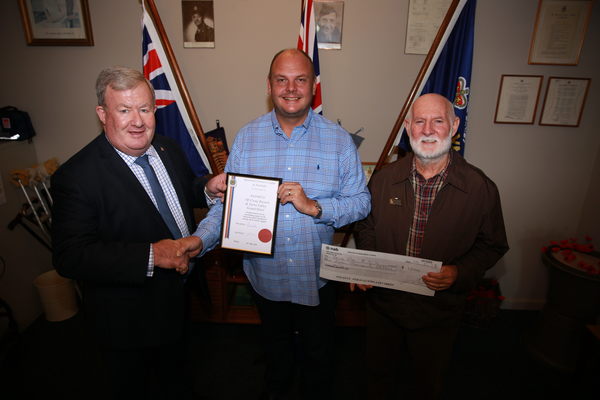 By Derek Schlennstedt
After another generous donation to the Yarra Glen RSL from the Yarra Glen Grand Hotel, two Yarra Glen students will be sent to a summer camp and the rest of the money donated to the Anzac Appeal.
Grand Hotel owner Craig Barnett met with Yarra Glen RSL Sub-Branch president Stephen Shortis, secretary Ed Bartosh and Appeals Manager of RSL Victoria, Peter Smith, to donate the $1000 to the group.
This marked the third donation of $1000 to the RSL and was much appreciated by the members.
Mr Bartosh said the fund helped veterans, widows, and their families, when in need of financial assistance for transport or bills and would help send two local disadvantaged students to an annual Portsea summer camp in January.
"The RSL sponsor a week down at the Portsea Camp in January … it's for the veterans and their families," Mr Bartosh said.
"We're just really grateful to Craig for having provided this opportunity for the welfare fund, it's really generous."
Half of the donations will also go toward veterans' welfare funds such as the Anzac Appeal.
"This money has been donated to the Anzac Appeal … this is the way we fund veteran welfare so this is very important, and is a lovely things for local businesses to support the local charity in there area," Appeals Manager of RSL Victoria, Peter Smith said.
"We are delighted that Craig has donated that sum of money … it's very much needed and it will be put to good use."
The donation from the Grand in Yarra Glen is the latest in a series of donations made by the hotel, which raises money during its Friday night meat raffles and members draw, with the funds donated to community groups when the pool of raised money reaches $1000.
Owner Craig Barnett said the hotel usually tries to donate money each Anzac Day.
"This is the third time the RSL has received it over three years … we always try to do it close to April," he said.
"On a Friday night we have a local draw, and raffle … all the proceeds from the raffle go to a local charity.
"About every eight to ten weeks we have enough money to give $1000 to a local charity."