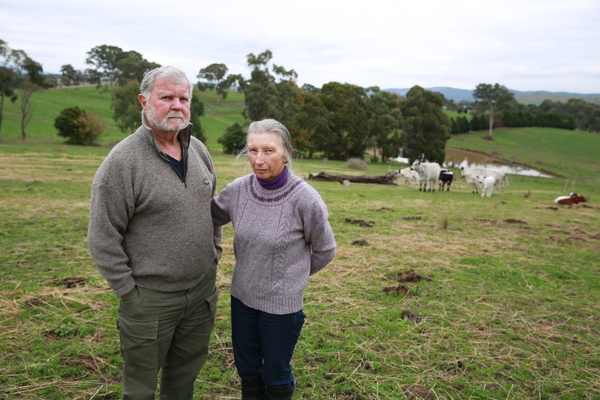 By Derek Schlennstedt
A heifer has died after two arrows were fired into its body in a sickening attack in Dixon's Creek along Botting Lane.
The beloved 14-month-old heifer was found by owners' John Philp and Irene Meredith Philp just after 3pm on Sunday 20 May and despite efforts by a vet to save the heifer, she was put down on Monday.
Mrs Philp said she was horrified to find the heifer breathing heavily with an arrow sticking out of her flank and was in a shock as she calmed the heifer while waiting for the vet to arrive.
"She was really special to me because her mother is a really old cow and can't have any more calves, and that was the one I was keeping to replace the other because she was just such a good cow," said Ms Philp.
"She was my only one I had to keep that line going … she was a particularly nice animal, she's one that you go in the paddock with a piece of bread and she'd be in your pocket and following you around the paddock nuzzling you."
"What person would get a thrill from shooting a pet heifer that follows people around like a big dog, she would have just stood there."
Two arrows were shot at the heifer that was in a paddock 15-20 metres from the road.
One pierced her right hand flank, damaging a lung, and the other, sliced through her spine, damaging nerves and causing the rumen, – a part of the stomach to fill with gas.
The ordeal left Mrs Philp traumatised and she is worried about her other cows or that it may occur to someone else.
"I've been in shock, can't sleep … keep having that picture in mind, wanting to burst into tears when I think about it, I'm worried sick about the other animals, and have let everyone on the road know and they're all worried to," she said.
"If they're not doing it here, they might do it somewhere else, and that's my concern, they may do something in the future, whether it's someone's cow, dog or sheep."
Leading Senior constable at Healesville police, Jarrod Rollason attended the incident and decried the act as horrendous.
"At this stage it is an act of aggravated cruelty to animals which is a serious offence," he said.
Lead Snr Const Rollason said that the unknown offenders had used a hunting arrow instead of a target arrow which "is specifically designed for deer and doing a fair bit of damage".
It is believed the incident occurred overnight between Saturday 19 and Sunday 20 May on Bottings Lane, Dixons Creek.
Anyone with information or anyone who has seen any suspicious activity, or even experienced a similar incident recently is urged to contact Leading Snior constable at Healesville police Jarrod Rollason on (03) 5962 4422
Individuals can also contact Crime Stoppers on 1800 333 000 or make a confidential crime report at www.crimestoppersvic.com.au .