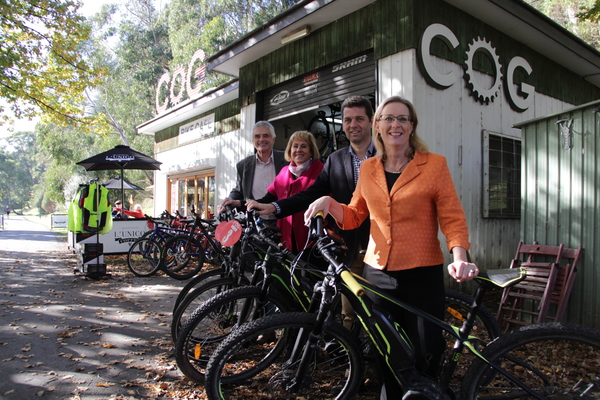 By Derek Schlennstedt
Warburton is looking to become one of Australia's premier locations for mountain bike riding under a plan to make nearly 100 kilometres of new bike trails in the bush near the town.
Now Yarra Ranges Council is taking its first steps to realising that dream with an elected Liberal Nationals Government promising, that if elected it will provide $3 million towards the construction of the first stage of the Warburton Mountain Bike Trail.
State Member for Eildon Cindy McLeish and Shadow Minister for Environment Nick Wakeling announced on Friday 25 May that up to 97km of new mountain biking trails will be created in the Upper Yarra when the Trail project is complete.
First on the plan is the 'Drop A K' trail which will feature 36.4 kilometres of epic wilderness riding, and as the name suggests, will have a one kilometre vertical descent through National Park.
The trail will start from the peak of Donna Buang and end in the township of Warburton.
Member for Eildon, Cindy McLeish said regional communities like Warburton were attractive destinations for domestic and international tourism and would help boost the local community.
"Yarra Ranges Council has long identified the need for an economic driver in the Upper Yarra with businesses in the region needing a boost.
"This project will deliver significant benefits and is expected to lead to the creation of up to 175 jobs and an estimated $23 million boost to our local economy.
"This project provides the opportunity for employment and tourist growth in the Yarra Ranges, and will help ensure Warburton is a destination for serious mountain bike riders and families across Australia and from overseas.
A multi organisation approach Yarra Ranges Council is working with Melbourne Water, Parks Victoria, the Department of Environment, Land, Water and Planning and Cox Architecture to ensure any concerns are dealt with.
Yarra Ranges councillor and member of the Warburton Mountain Bike Destination Project Reference Group Jim Child said plans for the Warburton Mountain Bike Destination, as well as the Yarra Valley Trail which is also being planned, were more than just about creating recreational opportunities and attracting visitors to the Yarra Ranges.
"The important thing with this project is that it's going to revitalise Warburton, it's gone through a downturn over the years and this is an opportunity to revitalise the town, and give jobs."
"Our feasibility study is telling us 165,000 visitations we'll have annually, and 30,000 of those visitations will be overnight stays so that's 122 extra jobs for this town."
The $3 million from the Liberal Nationals will match another $3 million which has been partly funded by Yarra Ranges Council, community banks and various organisations and groups.
Andrew Swann, from Yarra Valley Cycles in Lilydale said the landscape in Warburton was absolutely ideal for mountain biking and cycling in general, and that the planned trails would build on the current 5km's of tracks in the area.
"The Drop a K trail will be 36km of essential continuous descent … they'll start at the top of Mount Donna Buang and traverse across through some beautiful cool climate rainforest at a continuous descent rate of about 5 percent and end up back in the township of Warburton," Mr Swann said.
"That sort of trail is not seen anywhere else in Australia."