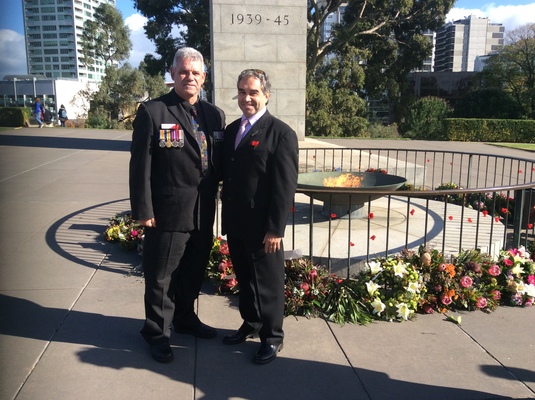 By Kath Gannaway
The contributions of Aboriginal and Torres Strait Islander service men and women to the defence of Australia was honoured on Thursday, 31 May, with the 2018 Victorian Aboriginal Remembrance Service at The Shrine of Remembrance in Melbourne.
The service is organised each year by the Victorian Aboriginal Remembrance Committee (VARC).
In a moving ceremony whose beginnings started in 2006 when Auntie Dot Peters and then president of Healesville RSL, Sam Halim, initiated the first remembrance service, the service this year particularly paid tribute to Australia's WWI Indigenous soldiers.
In the centenary era of WWI, a history of Aboriginal participation, and loss, was presented stating that around 900 Aboriginal Australians served in WWI, including 80 Victorian Aboriginal men.
At least 11 Victorian Aboriginal soldiers were killed in action, or fatally wounded.
Guest speaker was Ricky Morris, a former sergeant of the Australian Army, is a Gunditjmara man who served in Afghanistan and East Timor.
A descendent of warriors and soldiers, who has the distinction of having had more family members on active service in the military than any other Australian family.
The commemoration included a performance by the Worawa Aboriginal College choral group, a welcome by Auntie Dot as chair of the Victorian Aboriginal Remembrance Committee and an address by Minister for Aboriginal Affairs, Natalie Hutchins MP.
Mullum Mullum Indigenous Gathering Place Choir was supported by Lilydale High School Vocal Ensemble and Casey Grammar School Choir in singing 'We Are One'.
Mr Halim, who is also President of Healesville Rotary, and a founding member of the VARC, also spoke.
He said there was some opposition initially to having a day dedicated to Aboriginal service men and woman.
"Some said 'we have Anzac Day', but it has been growing every year and spread to every state in Australia, and it's been acknowledged that Auntie Dot and myself started it in 2006 from Healesville," Mr Halim said.
He said it was important to say to the world that Healesville started something that changed history.
"We are hoping now that it continues to gain momentum and that all RSLs and other organisations will come on board."