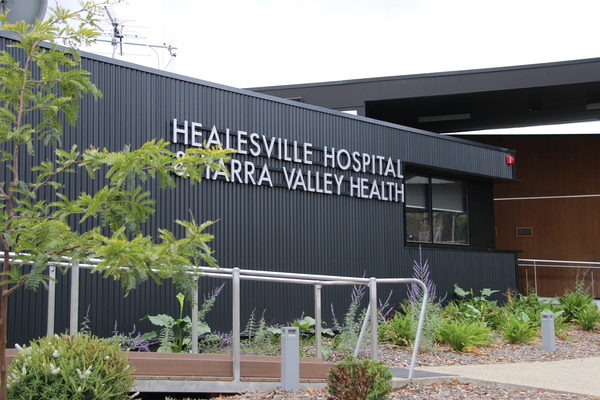 By Kath Gannaway
Birthing services could return to Healesville Hospital if a key recommendation of a Parliamentary Inquiry into Perinatal Services is acted on.
Meanwhile, the Yarra Valley community will have an opportunity to have a say on maternity and other health services provided to the valley at a public meeting in Healesville on Thursday 4 October, ahead of the state election.
The inquiry recommended that the Department of Human Services engages with public hospitals to look at the feasibility of expanding admitting rights for private midwives.
That recommendation, and others contained in the 366-page report has been welcomed by the Save Healesville Hospital Action Group, which, along with Yarra Valley Midwives and Healesville Action Group made submissions to the Inquiry.
Eastern Health did not make a submission, despite Box Hill Hospital and The Angliss at Ferntree Gully being the main providers of birthing services to women in the outer-east and seventh and 16th respectively out of 55 hospital across the state, with 2709 and 2326 babies born in 2016.
SHHAG's submission raised the contentious issue of the closure of maternity services at Healesville Hospital by Eastern and cited personal experiences of women in response to SHHAG's call for feedback to inform the submission.
"We received nearly 200 comments, more than 75 in one day, in response to our question as to whether they thought we needed maternity services, whether it was safe to do so, and what their experiences had been."
SHHAG spokesperson Jane Judd said that while women recognised it was not safe for all women to birth in Healesville, the majority who responded to surveys in 2012, 2015 and in 2017 wanted an opportunity to birth and have access to perinatal services locally.
"The evidence shows the majority of women diverted from being able to deliver at Healesville went on to deliver safely at Box Hill and Angliss," the SHAAG submission noted.
Their submission addresses a number of issues including the negative impacts of travelling long distances to birth, and the corresponding increase in home births, the impact on family members, early discharge, the quality and safety in the antenatal period in terms of monitoring the health of mothers and the effect on employment of midwives, and opportunities for Obstetric GPs.
"We believe there is a lot in this report that is supported by our submission and that concerns we expressed about current maternity and perinatal services are reflected in the report," Ms Judd said.
Eastern Health's women and children program director, Philippa Blencowe, said Eastern Health was committed to delivering quality care to its community.
"While we did not make a submission to the parliamentary inquiry on this occasion, Eastern Health is fortunate to have a strong relationship with the State Government and the Department of Health and Human Services," she said.
"This important partnership allows us to openly discuss how we can work together to ensure our community has access to quality, safe and sustainable birthing services – both now and in the future."
Ms Blencowe said Eastern Health was monitoring how other health services implemented access for private midwives into their services.
"This may provide useful insights into facilitating access of private midwives and their clients to maternity services at Box Hill Hospital and Angliss Hospital," she said.
She said Healesville Hospital and Yarra Valley Health were proud to offer an ante-natal clinic and domiciliary care, where midwives could make home visits following a mum's discharge from hospital.
"Yarra Ranges Health in Lilydale also offers ante-natal, obstetrician clinics and lactation consultant clinics for breastfeeding support," she said.
"We also have a Mum's Day Out program where women can receive health information while taking some time out; supported playgroups; and counselling programs.
"Eastern Health will continue to review demand for maternity services across the region; and ensure we provide quality, safe and sustainable birthing services for women in our community."