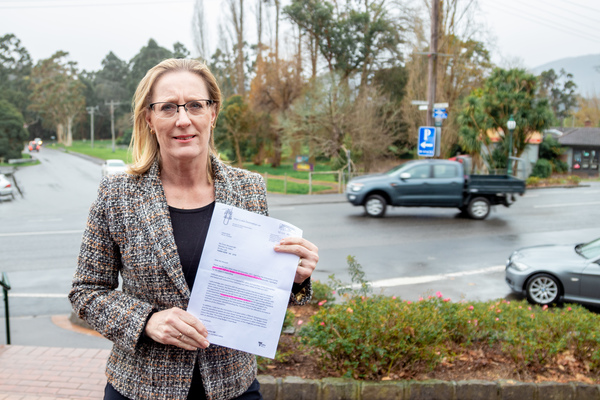 By Casey Neill
A Healesville cafe is calling for a safety audit at a "dangerous" intersection.
Habituel overlooks the Maroondah Highway, Badger Creek Road and Wilson Street junction.
Manager Simon Hall said more than 400 people had signed a petition asking Yarra Ranges Council to look at traffic and pedestrian safety at the intersection, to see if signalisation or a roundabout could be introduced.
"It's a high-danger area," he said.
"We do see cars taking off at high speeds, and pedestrians taking risks crossing the road."
Mr Hall said buses travelled up Badger Creek Road to Healesville Sanctuary.
"There's no management of the traffic flow," he said.
"There's no allowance for pedestrians coming from the parklands across the creek.
"There's just a very dangerous free-for-all that happens during the week.
"On the weekends it's exacerbated, particularly if you've got the produce market.
"Some sort of traffic management I think would be imperative.
Mr Hall is aiming to collect 1000 signatures and encouraged anyone who wanted to join the campaign to visit the cafe.
Eildon MP Cindy McLeish encouraged local residents to make their voices heard about the intersection.
She said the traffic problems posed risks for motorists and pedestrians.
"We need to fix this intersection," she said.
"That's why I want to hear the community's views about the best solution to keep the traffic moving and to keep everyone safe."
Last year, Ms McLeish wrote to Roads and Road Safety Minister Luke Donnellan to ask the State Government to investigate potential upgrades.
In response, the minister said that following a VicRoads investigation the government believed the intersection to be appropriate and would not support any modifications to improve safety.
"Plenty of Healesville locals have seen near-misses at the corner of Badger Creek Road and Maroondah Highway," Ms McLeish said.
"The community's feedback is essential towards finding a possible future solution that will keep motorists and pedestrians safe."
Habituel is at 314 Maroondah Highway, Healesville.