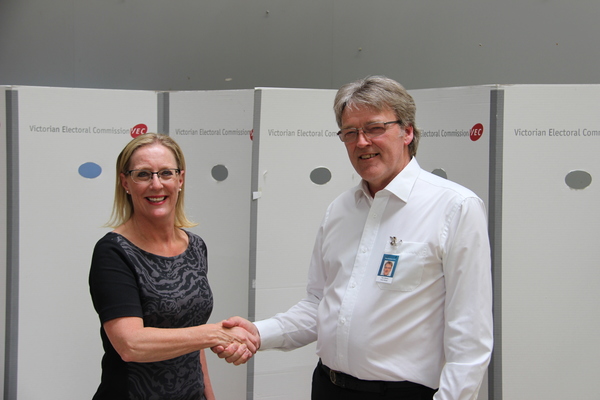 By Michael Doran
In a whirlwind 24 hours, Cindy McLeish was officially declared as the Member for Eildon and then elected Deputy Leader of the Victorian Liberal Party the next day.
At a scheduled Liberal Party room meeting on Thursday 6 December, Michael O'Brien was elected as leader and Cindy McLeish as his deputy.
In Launching Place on Wednesday 5 December, Election Manager Eildon, Peter Williams officially declared the result of the 2018 election for Eildon and announced Cindy McLeish as the successful candidate.
"Today we are going to do the formal declaration of the result for the District of Eildon," he said. "With regard to the establishment of the next Parliament of Victoria from the moment I declare the outcome of the election Ms McLeish becomes the official Member for Eildon."
After the result had been declared, Cindy McLeish said she wanted to thank her opponent, Sally Brennan, for the respectful way the campaign was run in the interests of the people of Eildon.
"I think this is characteristic of our electorate and I am absolutely delighted to be chosen to represent Eildon for another four years," she said. "It was a tough battle with a lot of money being thrown around by the government, particularly in the last few weeks.
"To represent the area and to be their voice is a real privilege and it is something I take really seriously. I take some pride in the fact that people recognise that I do try and represent everybody.
"There are always a lot of calls for action from the community and I will continue to focus on advocacy and taking action.
"Many promises have been made by the government in Eildon and I will be holding them to account to deliver on every one of those. They have already committed to doing the Millgrove River Walk so that needs to happen soon.
"My priorities are unchanged and include the poorly maintained park at Maroondah Dam, the Badger Creek Weir park, Warburton water precinct, the Upper Yarra mountain bike hub and maximising the services at Healesville Hospital.
"We need to support local businesses to grow tourism and to make our community a better place to live; there is always room to make things better."
Echoing that theme, new Liberals leader Michael O'Brien said, "Victorians deserve a strong, energetic Opposition that will keep this Labor Government accountable. We will make sure this is done."