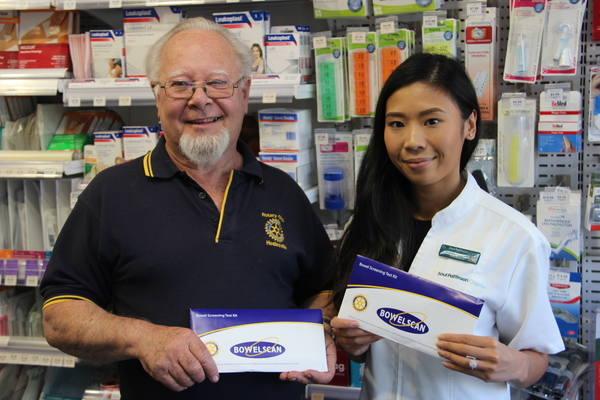 By Jed Lanyon
The Rotary Club of Healesville is reminding locals to make the most of life saving bowel cancer scans during the month of May and June.
Local Rotary Clubs partner with pharmacies to offer bowel cancer test kits for just $15, a fraction of the retail cost.
Bowel cancer has the second highest mortality rate among cancers in Australia, but it remains one of the most curable cancers upon early detection.
The federal government issues testing kits in the mail every second year to those aged between 50 and 74.
But Vice president of the Rotary Club of Healesville and former GP Ian Tinney said that many people are being diagnosed outside of that age range, particularly those over the age of 40 or those who have a family history of the cancer.
"What we're testing for is blood in the stool. And that blood can show many other disease processes other than bowel cancer," he said.
Mr Tinney said that last year alone the kits detected seven polyps that would have developed into cancers without early detection and discovered 30 benine polyps.
"We think it's a very good community response. It was purely coincidentally but one of our most senior members had his bowel cancer discovered by one of these kits, so he was very grateful," he said.
The Rotary Club of Healesville has been involved with this initiative for over 15 years now.
Mr Tinney urges people not to forget to take their yearly test.
"The kits are on sale until the middle of June," he said.
Visit your local chemist to find a bowel cancer test kit.