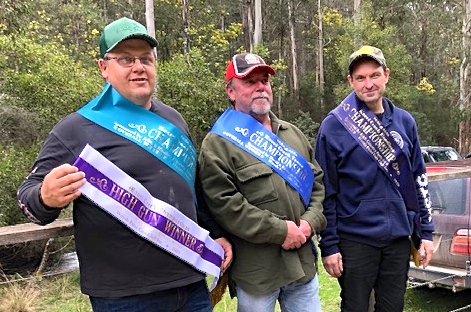 By John Wood
Cold weather greeted the competitors at the Woods Point Gun Club for the Maori Creek September Championships.
Shooters from as far as Bright, Morwell, Melbourne, the Upper Yarra Valley and the Mornington Peninsula attended and went straight into the traditional Eye Opener.
Phillip Desmond and Cranky McCall shared the AA Grade cash 15/15, with Allan Kidd taking the A Grade outright also with 15/15. Chuck Lay's 15/15 in B Grade gave him a handy cash prize, while Justin Broderick welcomed his win in C Grade 12/15.
The first Championship event was the continental 30 targets. It proved a difficult event with targets thrown in random horizontal and vertical directions.
After some keen competition, Daniel Chinn managed the only perfect score – 30/30 – to take the sash and AA Grade outright. Andrew Ferrari was second in AA Grade. A Grade was a good win for David Allen 28/30 from Allan Kidd second. B Grade saw Kirsten Chinn win, 27/30, with Steven Howlett second. Justin Broderick took C Grade 19/30 from Tom Apps after a short shoot off with Jodie Stockdale.
Event three was a 20 target hHandicap with shooters ranging from 25 metres to 15 metres behind the trap machine.
Cameron Trevitt returned the best score of 18/20 to take the sash. David Allen, Daniel Chinn, Allan Kidd, Phillip Desmond and Jim West went into a shoot off for the minor places resulting in Allen second, Chinn third and West fourth.
A 25 target Maori Creek Tower completed the day.
The tower target is realised from 10 metres above the ground and from behind the competitor. Good eyes and quick reflexes are required for this difficult event.
Geoff Hill managed the only 25/25 to take the sash. Robert Bevis after a short shoot off won AA Grade 28/29 from Jim West second 27/29.
Kidd was the A Grade winner 22/25 from Allen 18/25.
Hill easily won B Grade 25/25 but John Legge had to battle Kirsten Chinn in a shoot off to claim B Grade second. C grade saw Broderick take a back seat to a fast finishing Tom Apps who finished 16/25 to Broderick's 12/25.
Daniel Chinn capped of a good day by taking the Frazer sponsored Maori Creek High Gun with a final of 70/75.
Some trap problems occurred early in the day but the spare trap was put in place and only about 30 minutes of shooting time was lost.
With Cheryl Apps' hard work, and Ward and Broderick's BBQ skills there was a great lunch.
Club members and visiting shooters all chipped in on the day to make it another successful Woods Point shoot.
The next competition is the Bernie Elstrek Memorial on Sunday 27 October starting at 9.30am.