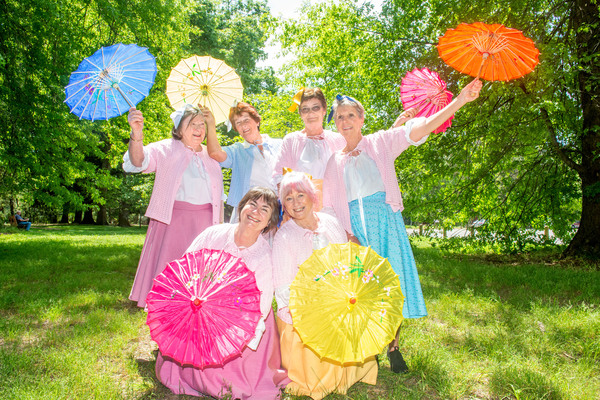 By Jed Lanyon
Healesville U3A's production will return to The Memo for two shows on Sunday 24 November and Saturday 30 November.
This year marks the sixth annual edition of the production, which has grown enormously each year, to now feature high quality lighting and sound as well as stage effects to go along with their two shows, Town Fair and Adventure Island.
Healesville U3A vice-president John Pascoe said there are about 25 to 30 people involved over the two productions.
"It's good to be in a position to entertain and have fun," he said.
"The thing I enjoy most is that there are people in the retirement stage who are getting up dancing around and enjoying themselves.
"I hope the audience can take away a sense of fun and enjoyment and a sense that they had a really good, fun afternoon.
"There are members who have been involved with musicals or choirs or theatre shows, and this is just providing another avenue for them in a slightly more light-hearted kind of way but never the less serious.
"There is an awful lot of talent in Healesville and a lot of people who are retired, who are looking to do more.
"They are energetic, they like to sing, dance and laugh. There's a wonderful camaraderie about it."
Writer and director Lois Thwaites said that rehearsals had been very busy so far.
"Town Fair is a musical based on a small town, probably like Healesville, who are holding a big state fair… There are a lot of real one-liners in there, it's a real comedy," she said.
Adventure Island is a continuation from last year's production where travellers are shipwrecked on an island featuring witches, mermaids and pirates.
Ms Thwaites said that Adventure Island features many Disney show tunes to keep children entertained.
She shared how the production had grown in its sixth year.
"The very first one was a performance and afternoon tea in the Yarra Glen Hall… Maybe about 60 people were there.
Now the U3A group will play in front of 250 people in The Memo Hall, twice.
"I gave them all a heart attack by saying that we really needed to do a third performance."
As the production date draws closer, the group will begin rehearsing three times a week.
But despite this, Ms Thwaites said she is already busy writing next year's production and hopes the event will continue to grow bigger and better.
"They all love it, they come back year after year," she said.
For more information or to book tickets, visit http://ach.yarraranges.vic.gov.au/