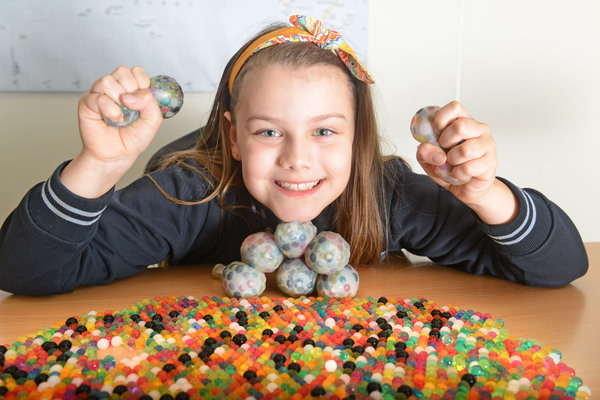 By Jed Lanyon
A Wandin North Primary School student's charity fundraiser will help restore the vision of 20 people with preventable blindness.
Grade 3 student Mercy Hutchinson pitched a plan to her principal to sell Orbeez and rice stress balls to her classmates, where she managed to raise $513 for the Fred Hollows Foundation.
Orbeez are tiny, absorbent beads that grow into squishy, slimy bouncy balls when soaked in water. Mercy had the idea to fill the Orbeez into balloons which could then be squeezed to relieve stress.
Mercy's original aim was to raise $200. After smashing that goal, she told the Mail, "It feels really great that I raised this much money and that I'm going to be able to help people."
Mercy's mother, Emma Hutchinson, said that Mercy donated her own money to buy all the materials and then spent her school holidays making the Orbeez filled stress balls.
"We were learning about disabilities at the time and it just gave me the idea to make money for blind people. My mum's grandma, she went blind. So that kind of gave me the idea as well," Mercy said.
"The Fred Hollows Foundation, for $25 they can operate on someone's eyes. If they are blind, they can operate so that they can see again.
"I asked Mr Bailey if I could do a stall, he said 'yes' and then we sold out in maybe five minutes."
It's not just the Orbeez and stress balls that Mercy has made popular within the school, as principal Paul Bailey said he now fields all kinds of requests from students looking to raise money for charity.
"It's really pleasing to see that our students have that empathy for people who are in need… It makes me proud to be the principal of a student that is thinking beyond themselves and for the greater good."
In developing countries, four out of five people who are blind are able to be treated, according to the Fred Hollows Foundation.
Eye diseases like cataract, trachoma and diabetic retinopathy can lead to blindness when, in fact they're either treatable or preventable.
The reason people live with blindness is that they can't access quality eye health care. In many cases, a straightforward 20-minute operation can restore sight or a dose of antibiotics can prevent blindness.