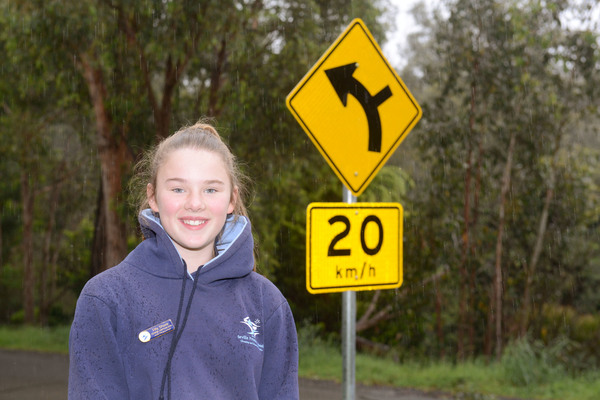 By Jed Lanyon
Seville Primary School students were asked to write a persuasive letter of action as a class project and as a result, one student has made a change in safety to her community.
School Captain Tilly Shore penned a letter to Yarra Ranges Mayor Tony Stevenson regarding road safety issues near her house.
The sharp corner of Seymour Street and Howard Street now features roadside reflective posts, a sign advising drivers of the speed limit and road lines painted to ensure drivers stay on the left-hand side while making their turn.
"I chose the end of our road because we go past it every day and we've had some close calls with crashes, so I thought if I talked with the council we could change it up a bit.
Tilly has lived on the road for over 10 years and was able to recall from her own experience to explain some of the dangers of turning at the 'blind spot'.
"You can't see around the corner past the trees and everything. Nobody slows down or is considerate about what could happen.
Tilly said it felt nice to have her voice heard.
"I felt really good, It was really good that I was able to make a change because not many people my age might be able to do that. It was such an amazing feeling.
"I didn't think it was going to go far. I thought they would read it and think it's nothing much."
To add to the feat, Tilly hand delivered her letter to Mr Stevenson after speaking at the opening of Seville's new netball change room facilities in June.
Tilly's father Matt Shore was proud to see Tilly making a difference in her community.
"I've been whinging about that bloody bend for years," he said.
"We have noticed that people are now sticking to the right side of the line, so it has obviously worked, which is great.
"It's good for local kids to see that they can make change. If you're passionate about something, put pen to paper and make it happen.