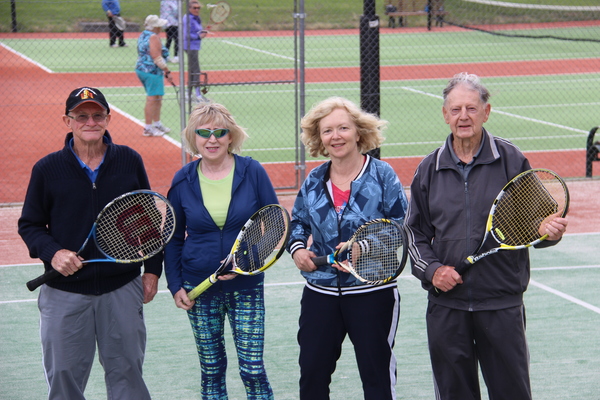 By Jed Lanyon
Healesville Tennis Club celebrated its 130th anniversary on Friday 15 November with a celebratory dinner and reunion for past members.
The tennis club, which first formed in 1889, then hosted a barbecue lunch on Sunday 17 November to continue the festivities for club members.
Tennis club member Bryn Jones said, "The tennis club started in about 1889. It was one of the first half dozen tennis clubs in Victoria, and very few of those that are still going.
"Today, in my case, I don't play competition but it's a great social occasion for me."
The club was initially located on River Street at the present site of the Healesville Bowling Club. In 1982, a new clubhouse was built on Don Road, where the club stands to this day.
"Over years, it's very much been at the centre of social life in the town. Many well-known people have been associated with the club," Mr Jones said.
Mr Jones wrote a book, Advantage Healesville, to celebrate the club's 120th anniversary in 2009.
When asked as to how he's feeling about the anniversary, Healesville Tennis Club Life Member Alan Honeycombe told the Mail, "We're just wondering where all those years went.
"We've been members here for 42 years. It's obviously had a rich history for the 90 years before that."
Mr Honeycombe said some of his favourite memories were back in the 1980's where he believes tennis was at its peak as a family sport.
"It's lovely to catch up with a whole lot of people who you haven't seen for a long time to find out what they've been doing since and why they're not still playing tennis.
When asked where the tennis club might be in another 130 years, Mr Honeycombe joked, "Wow, we could be playing cyber tennis by then.
"We'll still be needing exercise, so I'm hoping it's still a popular sport. It's been played for over 100 years already so there is no reason as to why it shouldn't be going.
"Maybe there will be a bit more technology around line machines so there's no arguments as to whether a play was in or out."
Healesville Tennis Club president Keith Hughson said that Healesville ranks as the equal fourth oldest active club in Victoria, behind Oakleigh, Geelong Lawn, Royal South Yarra.
"You think 130 years ago out here in Healesville, there really wouldn't have been a lot out here," Mr Hughson said.
Mr Hughson, who took up the role as president in July, said that he's looking forward to the immediate future of the historic tennis club.
"It's an exciting time for the club, we've gone through a great year of facility upgrades.
"We're redoing courts five and six, we've got new LED lights across all the courts… And we're hopeful of securing another grant for this coming year to refurbish the clubrooms."