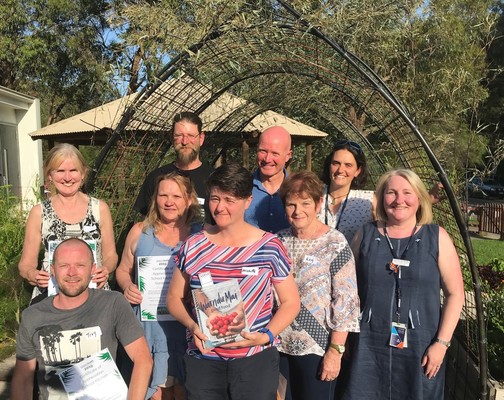 By Jed Lanyon
Gladysdale Primary School's Michelle Mock has been named as the Yarra Valley School Kitchen Gardener of the Year for her support and contributions to her school.
For 17 years, Ms Mock has volunteered her time in the garden, shared her passion for growing healthy foods and her cooking skills with students to teach them how to prepare meals in their own households.
The award was presented by Eastern Health in the veggie garden of Badger Creek Primary School on Wednesday 20 November.
Health Promotion at Eastern Health decided to launch the award this year to celebrate and acknowledge the champions in local schools who are growing foods and living a healthy lifestyle.
Ms Mock said that the award came as a shock to her as she believed she was attending a meeting at the time.
"It was really good. You do a lot of volunteer stuff, it just happens… It's nice to be noticed for it and recognised," she said.
Gladysdale Primary School principal Jeff de Villa told the Mail, "We were really wrapt about Michelle getting the award.
"She is someone who always puts her best foot forward… She's helped out a lot at our school."
Josette O'Donnell from Health Promotion at Eastern Health said, "This award acknowledges the tremendous energy that local community gardeners put in to making sure our children have the opportunity to learn about how to grow healthy food, cook and prepare meals and understand key topics in sustainability at our schools.
"We are fortunate in the Yarra Valley to have so many champions for growing food in our school communities. We want to thank all volunteers in school gardens across the Yarra Valley Health Promoting Schools Network."
The runner-up for the Yarra Valley School Kitchen Gardener of the Year Award was Julia Holmes from Toolangi Primary School.
Ms Holmes has been responsible for running a horticulture program for eight years, which engages students from prep to Grade 6.
Nominations for the School Kitchen Gardener of the Year were received for Sean O'Neill (Badger Creek Primary School), Troy Veenker (Wesburn Primary School), Meredith Gleeson (Yarra Glen Primary School) and Kelly Frost (Warburton Primary School).
Other staff, parents and volunteers from the community that were recognised included the teaching team at Healesville High School that have supported the building of garden beds at several primary schools with their VCAL students– including Gabby Plunkett, Danny Zemp, Aidan Hogg, Peter Scully, Shane Coady and Christine Dell and Chum Creek parents – Clare James, Kate James and Tabitha Barclay.