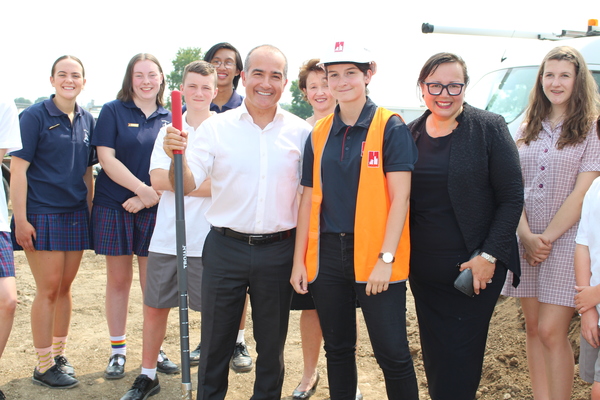 By Jed Lanyon
Students in the Yarra Valley are a step closer to having first-rate facilities as the state government's $20 million Upper Yarra Education Plan gets underway.
Minister for Education James Merlino and Member for Eastern Victoria Harriet Shing visited Lilydale High School, Lilydale Heights College and Upper Yarra Secondary College on 7 January to turn the sod on three building projects that will transform secondary education in the region.
Project coordinator Georgia Casey is a former Lilydale High School student, who has returned to help create the new $5.8 million zoology learning centre at her old school.
"It's a bit surreal to be going back to high school after all this time," Ms Casey said.
"The last time I was there I was worried about going to uni and getting a job. And now I'm back after everything and it's all just sort of fallen into place.
"I remember the reptile room as a good community for those in it. Marcus Whitby put a lot of time and care into it all, so this latest upgrade is well deserved for him and the school."
Lilydale High School principal Wendy Powson was happy to see the former student return to the school to help deliver the project, which will permanently house the school's reptiles.
The reptile room program has been a big hit among new Year 7 students as many shared their ambitions to be a veterinarian or zoologist to Mr Merlino at a school assembly.
The Mail has previously reported on the Upper Yarra Education Plan which will see an $8 million project at Lilydale Heights College, which will deliver a sustainable learning hub, new gym and create a town centre.
Lilydale Heights College principal Rosina Fotia has told the Mail that students have taken on the theme of sustainability as the school's identity.
At Upper Yarra Secondary College, works progress under a $6.2 million project that will upgrade and modernise the school's facilities, delivering flexible contemporary indoor and outdoor learning spaces.
The project includes a state-of-the-art science and technology building that will replace the original science buildings that are over 50 years old.
"These exciting projects will give teachers the modern facilities they need to deliver the 21st century education that students deserve," Mr Merlino said.
All three projects are expected to be completed and ready for students to use by mid-2021.