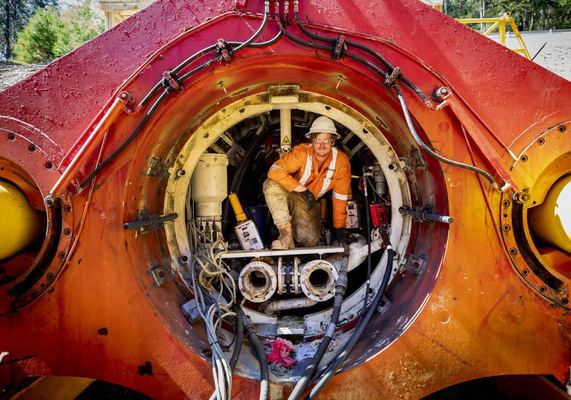 Works to replace the water outlet pipe at O'Shannassy Reservoir near McMahons Creek have reached a significant milestone, with the completion of the pathway for a new pipe.
For the past four-and-a-half months, a tunnel boring machine drilled underground at the reservoir, through 425m of earth, to prepare for a new pipe installation.
Tunnelling was required to navigate through a peak in the catchment, avoiding significant excavation and tree loss. The deepest section was 40m below ground level.
Melbourne Water staff are working with project partners John Holland-KBR Joint Venture to replace the century-old outlet pipe.
This pipe will replace the century-old pipe that supplies water to Silvan Reservoir, the biggest catchment in Melbourne Water's network.
O'Shannassy Reservoir is a crucial part of Melbourne's storage reservoirs system. With a high annual yield of 60GL it provides Melbourne homes and businesses with world-class drinking water.
Melbourne Water's project manager Daniel Rodino said he was pleased with the project's progression as completion of the tunnel boring had been scheduled for the end of April.
"It is a great outcome for the project and a huge milestone for the project team who have had to contend with some difficult site conditions," he said.
"With tunnelling completed, the project team will now turn their focus on the construction of the new pipeline which will continue to supply Melbourne with clean drinking water for another 100 years."
Kyle Nestor, John Holland-KBR Joint Venture project manager, said the new pipe will deliver greater operational certainty and capacity while creating opportunities for local people during construction.
"Our team is proud to be designing and building new water infrastructure for Melburnians, now and into the future," he said.
"Together with Melbourne Water we believe it is important to create local jobs when working in an area. We have hired several local people to work with us to deliver this essential project, while our team of engineers and supervisors have moved into the region."
Recently, the project team visited pupils at Warburton Primary School, who chose the name of the tunnel boring machine, and they signed a special sticker that will be placed on a section of the new pipe for posterity.
The tunnel boring machine was named Collette after Victoria's Chief Engineer Dr Collette Burke.