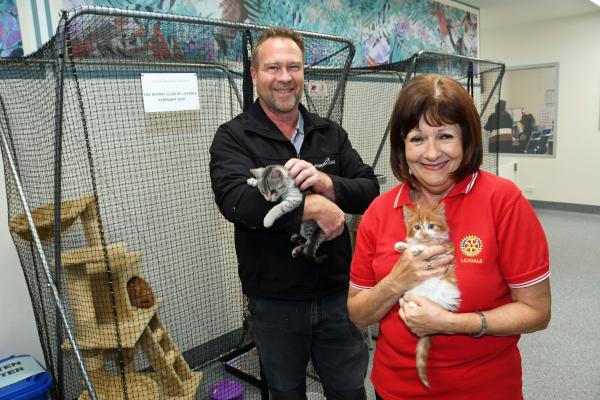 By Romy Stephens
The important role Rotary plays in the local community was highlighted recently, with the donation of funds to Coldstream's Animal Aid.
Lilydale Rotary Club donated $2500 to the animal shelter, which funded two enclosed cat pens and bedding to fit out the new cattery.
Animal Aid CEO Mark Menze said the donation from Rotary helped make the cattery a more comfortable space for animals.
"The vet bedding donated by Rotary is comfortable and washable meaning we are less reliant on donations of towels and blankets," he said.
"It is also environmentally better as we don't have to dispose of used blankets.
"The Catmax pens, we just wanted something we could put some kittens in and it lets them run about. You can fit about half a dozen kittens in there and it's an attraction for people too."
Lilydale Rotary president, and Animal Aid volunteer, Ann Wheeler said organisations such as Animal Aid were extremely important for the community.
"I think it's very important to have something like this, especially locally, that people can go and adopt and sadly, somewhere that they can surrender their animals if they need to," she said.
"They do such a great job and they've been here for such a long time."
Mr Menze said it was donations like the one from Lilydale Rotary that helped keep Animal Aid running.
"Animal Aid needs to fundraise around $400,000 a year to deliver our animal welfare mission," he said.
"Whether it's cash or goods in kind, every donation counts and we are very thankful to Anne and the Rotary Club for helping us fit out our beautiful new cattery."