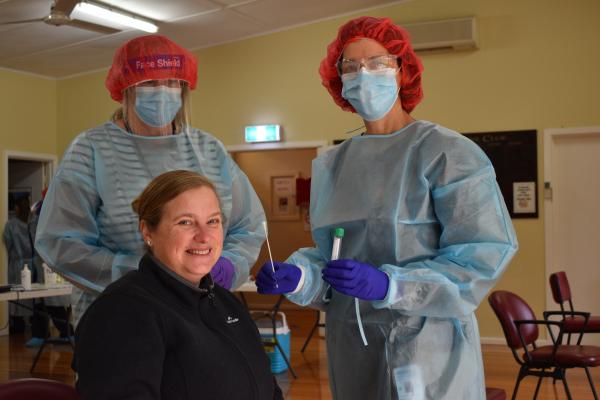 By Jed Lanyon
What is it like to get a Covid-19 test? Eastern Health's program director (specialty medicine and ambulatory care) Anne Mennan explained the process of being tested for the coronavirus.
This comes as new testing clinics have opened up in Healesville and Emerald over the past fortnight.
On Monday there were …… active Coronavirus cases in Yarra Ranges, up from ……. the day before.
"If there is a queue at the front door you are asked to line up 1.5 metres apart," Ms Mennan said.
"You are asked to wear your own mask. If you do not have one, you will be provided with one.
"You will be greeted by a receptionist and have some paperwork completed. An ID such as a Medicare card is needed. You will be asked to take a seat or wait to be taken straight through by the nurse to be swabbed.
"Then you will leave through a separate exit from the hall."
Ms Mennan said it does not hurt to receive the swab.
"It is best described as a mildly uncomfortable procedure – swab to the throat and nasal brushing of both nostrils."
She said Yarra Ranges residents can expect to receive their test results in up to five days.
Those who have been tested are required to self isolate until they have received confirmation of a negative result.
"Those with a negative result will get an SMS via their mobile. Those with a positive result will get a call either from Eastern Health's Infectious Diseases Consultant or the DHHS."
Victorian Premier Daniel Andrews expressed his concerns upon revealing that 89 per cent of people did not isolate when feeling unwell before getting tested and that 53 per cent of people didn't isolate while waiting for their test results.
"Now, that's an interesting measure in that people have felt sick, they've got symptoms, and they've kept going shopping. They've kept going to work," Mr Andrews said.
"But the only thing you can do when you feel sick — the one and only thing that you can and must do when you feel sick is to go and get tested. Nothing else is acceptable."
Mr Andrews urged people to take up the $1,500 worker support payment for people who have to self-isolate because of coronavirus.
He said people who feel sick and suspect they have coronavirus should call a support hotline 1800 675 398 to try and get support.
"Call that number and we will provide you with that support so that you can be at home and do the safe thing and the right thing," he said.
Ms Mennen said over 230 local residents had attended the Healesville testing clinic in the first week. Testing clinics are also accessible in the townships of Yarra Junction, Lilydale, Ferntree Gully and Emerald for Yarra Ranges residents.
Anyone with Covid-19 or flu-like symptoms can go along to get tested. This may include fever, chills, cough, sore throat, shortness of breath, runny nose or a loss of sense of taste or smell.