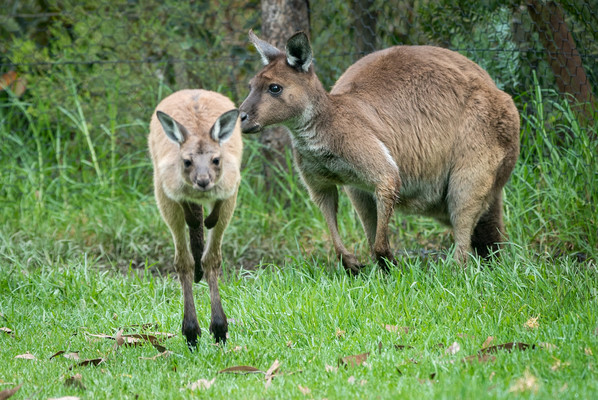 By Jed Lanyon
A planned cull of kangaroos set to take place tonight at Kinley Estate is believed to have been delayed, according to an Animal Justice Party MP, following backlash from nearby residents.
Dozens of kangaroos are set to be culled at the former Lilydale quarry site to make way for the new Kinley Estate development, in a move that angered locals.
Some residents in Mooroolbark and Lilydale received letters from Kinley outlining that the Department of Environment, Land, Water and Planning (DELWP) had authorised for the culling to take place.
Member for the Animal Justice Party, Andy Meddick, announced that the culling had been delayed at the last minute, following conversations with the developer. Kinley Estate is yet to respond to Star Mail to confirm the following statement.
"We've managed to negotiate a stay to give us more time to convince the Victorian Government to choose a non-lethal method of relocation with vets and darters," Mr Meddick said in a statement.
"This means no kangaroo will be shot tonight."
The letter from Kinley stated that while methods of site management, fertility control and translocation had been considered, DELWP believed killing the kangaroos was the "most humane method of dealing with the welfare of the local kangaroo population."
A DELWP conservation regulator spokesperson told Star Mail the application for an Authority to Control Wildlife had been approved by the Conservation Regulator back in August 2019.
"The Conservation Regulator is aware of community concerns around the permit, however it is satisfied that the authorisation is necessary for the site," the spokesperson said.
"Kangaroos when translocated by humans, suffer significant stress and have shown to experience high levels of mortality in some cases this has been greater than 40 per cent.
"Release of an animal at a new site, is likely to cause further stress as a result of being in unfamiliar surroundings, potential territory disputes with existing kangaroo populations as well risks associated with disease transfer.
"Kangaroos have also been known to attempt to find their way back to their original location, which may pose additional risks to both animals and the community."
A statement released by Intrapac Property COO Maxwell Shifman said Kinley exhausted other avenues, including relocation, that were ultimately rejected by DELWP.
"This small mob of kangaroos is land locked and has the potential to become a serious hazard as the development progresses," Mr Shifman said. "The last thing anyone wants to see is kangaroos fleeing the site, which will be opened up soon, only to cause traffic accidents or worse.
"We actually received the approval to cull in late 2019. However, we chose to spend a further nine months trying to find alternatives, including approaching wildlife trusts to find a home for relocation.
"We did receive some offers for relocation, but none were approved by DELWP due to the stress it causes the animals, and also that they are highly territorial and are likely to be attacked and killed by existing kangaroos in a new habitat."
Dr Emma Cash, owner of Montrose's Bungalook Wildlife Sanctuary, has slammed the decision by DELWP, stating they knocked back offers to rescue the animals.
"DELWP has no desire to save our native wildlife," she said. "I'm not entirely sure about how being dead is less stressful than being relocated."
Dr Cash has a doctorate in zoology and has undertaken research on endangered marsupials. She said DELWP has opted to take "the easy way out."
"If handled correctly with the right personnel and veterinary staff it (relocation) can be done.
"I won't deny that it will be stressful, but i'm not sure how a couple days of stress for these animals is trumped by death.
"We're talking about 30 animals with joeys in their pouches. Those joeys will have their skulls crushed using blunt force trauma."
The letters from Kinley, dated 28 July, stated that culling would commence "in the next few days", giving those who oppose the action little time to act.
Mount Evelyn resident Shannen Jones created a petition, gaining almost 7000 signatures in less than 48 hours for those pushing back against the cull.
"I'd rather see them move to places that have lost their population of kangaroos from recent bushfires so that they can breed and replenish what they have lost," Ms Jones said. "It's just a more humane option than what they have chosen."
Lilydale resident Kirstie Heard said she was upset to read the letter from Kinley. Her family's property backs on to the major real estate development.
"The way they worded it didn't really sit well with me," she said. "Why do they think that this is the best option? To me it sounds like it's to do with money, they don't want to pay for the relocation."
Kinley has been contacted for comment.
More to come.