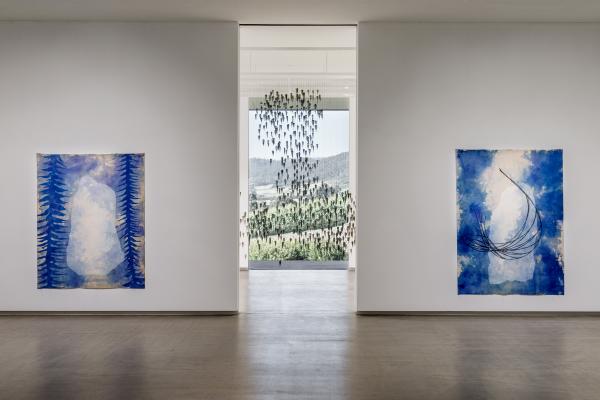 TarraWarra Museum of Art will reopen just in time for summer, with a new exhibition Looking Glass: Judy Watson and Yhonnie Scarce.
TarraWarra Museum of Art director Victoria Lynn said, "We are absolutely delighted to be reopening our doors with an exhibition of works themed on the monumental elements of earth, water, fire and air by Aboriginal artists Judy Watson and Yhonnie Scarce.
"The pairing of Watson and Scarce brings together two of Australia's most lyrical and poignant artists whose works present an interpretation of country, where the creation and experience of art is mnemonic for the lived, remembered and inherited history of Aboriginal people.
"Our reopening comes with a few new measures including timed ticketing, capacity limits and increased cleaning regimes, and we will continue to offer online experiences for those who choose not to visit us in person just yet.
"The Museum and the wide expanses of the Yarra Valley are the perfect place to recharge and connect with nature and art, and we can't wait to welcome everyone back," Ms Lynn said.
The exhibition will include Ms Scarce's new installation, Cloud Chamber, 2020, featuring one thousand glass yams cascading from above. The work is an evocation of the nuclear test of the 'Breakaway' bomb in Maralinga, which sent radioactive clouds across the land of Aboriginal people living in the area.
Each yam will be 'mapped' according to the dark areas of the trajectory of this poisonous cloud. This is the first time Ms Scarce has exhibited an iteration of the impressive cascading glass yam sculptures in Victoria – previously and similar works exhibited were Thunder Raining Poison 2015 acquired by the NGA and Black Zephyr 2017 acquired by AGNSW.
Cloud Chamber, 2020, will be installed in the light filled spectacular North Gallery of TarraWarra Museum of Art, hanging directly in front of the floor to ceiling window which traces the expanse of neighbouring vineyards and hills of the Yarra Valley.
Ms Watson's works feature ochres, charcoal and indigo pigments pooled upon washed canvas, revealing Aboriginal histories and following lines of emotional and physical topography that centre on particular places and moments in time.
Exhibition curator, Hetti Perkins, says the artists are concerned essentially with Australia's 'secret war'—a battle fought on many fronts from colonial massacres and Stolen Generations through to the British atomic bomb tests at Maralinga.
"The seductive beauty of Watson's and Scarce's works belies their powerful message about the sustained campaign of the destruction of country, culture and community in Aboriginal Australia—their work is a kind of 'tender trap'. With the devastating evidence of climate change in Australia, manifest in apocalyptic wildfires and storms, this exhibition delivers an urgent message," Ms Perkins said.