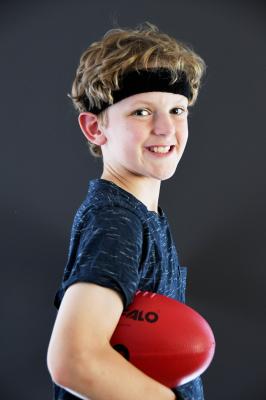 By Jed Lanyon
A 12 year old footy fanatic has put on the blind fold to help raise funds and awareness for a good cause.
Lilydale resident Will Milton was watching the half-time show of a footy match and heard the story of a promising young footballer, whose AFL ambitions were struck a blow when he one day awoke to be blind.
"He thought that his career was over and he would never play football again until he encountered blind football." Will said. "This gave him the opportunity to once again play the game he loved."
Upon learning of the Victorian Blind Football League (VBFL) Will became inspired to help support the little-known footy league through starting his own fundraiser.
The VBFL provides Victorians with blindness and low vision the ability to participate in Australian Rules Football at a competitive level, an opportunity that Will thinks everyone should be afforded.
"I wanted other people who wanted to play footy to find this place and be able to play as well and to feel comfortable playing footy blind," Will said. "I like footy a lot, and people who may love the game the same as me, I want them to be able to play it as well."
Will has taken to YouTube for 14 days of blind footy challenges as well as starting a Go Fund Me that has already raised over $660 in the first week of his two week challenge.
Will used his own creativity to come up with a new challenge each day. One day he'll be doing as many burpees as he can in a minute, all while catching a footy blindfolded. The next he's running five kilometers around the Lillydale Lake with the blindfold on, under the guidance of proud dad, Neil.
"I'd get the ball thrown to me and I'd have to catch it," Will said. "I said to the people watching that everytime I catch the footy to donate $5 to Victorian Blind Football."
Will's goal is to raise over $1000 and he even bought the official VBFL game ball for his challenges.
"The ball beeps and makes a sound so they can hear the ball and then when you enter the arc a sound goes off near the goal so the players know where to kick."
Will is the reigning best and fairest for his Healesville FNC team, a mad crows supporter and a huge fan of captain Rory Sloane.
"A lot of people actually think I look like him and I wear the number nine for my Healesville games. I love the way he plays and attacks the footy with courage and his leadership as well."
Upon hearing about Will's fundraiser, the VBFL invited him out to the league's grand final and gave him the special honour of presenting the premiership cup to the winning team.
"I'm pretty proud and happy they want me to present the cup and they think I'm someone good to present it. I just feel really special and excited and I hope it goes well."
Will's Blind Football Challenge runs each day from 5 December to 18 December.
To donate to his campaign, visit: https://bit.ly/3nlB8m1
To view Will's footy challenges, visit: https://bit.ly/2ICncES