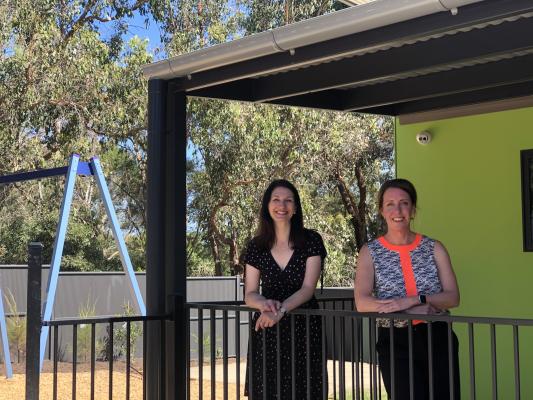 By Taylah Eastwell
Children on the autism spectrum will soon be able to begin their learning journey in Coldstream, with Lyrebird College officially receiving registration as a school last month.
Nestled on a 2500 square metre block between Coldstream Primary School and Coldstream Preschool, Lyrebird College is an independent school aiming to achieve excellence in the education of children on the autism spectrum.
The school, which was first proposed in May 2016, had its Kelso Street location approved by Yarra Ranges Council in February last year.
The land has been leased to the college by Yarra Ranges Council, while construction of the two-classroom facility and playground areas were all funded through philanthropic donations.
With construction and landscaping on the verge of completion, Lyrebird College is excited to welcome its first ever intake of students and their families in January 2021.
For School Founder Melissa Handbury, the thought of students busting through the doors and beginning their tailored education journey at a school she envisioned is "a dream come true".
"It's amazing to be able to help all these families. I know firsthand how difficult it is for families who have a child with a disability. The whole family is impacted and the parents generally live selfless lives. All they really want, like typical families, is the best for their children," she said.
Ms Handbury has been the driving force behind the college. With her son being on the autism spectrum, she saw firsthand how well he progressed under a tailored Applied Behavioural Analysis (ABA) therapy program with a learning focus and decided to create a school that offered this to other children.
ABA is an approach to understanding and changing behaviour that involves a range of different strategies that can be used to teach and increase positive lifelong skills and independence for students with Autism Spectrum Disorder.
Ms Handbury said Lyrebird College will have an ABA therapist on site at the school, allowing children who attend the college to continue with their existing ABA programs.
Founding Principal Julie Kugler said the offering of ABA therapy is what makes Lyrebird College "stand out".
"The families we have been working with are really looking forward to having the small setting with a targeted focus on teaching and learning, and most importantly a continuation of ABA," Ms Kugler said.
The school's initial enrolment will be 14 students in lower and upper primary levels, with the potential in the future to cater for 36 students.
"We've got a small campus which enables us to have really strong family connections and that's what many of our families are choosing us for, is that ability to stay connected to their child's education, to be welcomed on site and to be part of the learning journey," Ms Kugler said.
A number of philanthropic community groups have donated funds to be awarded by way of scholarship or bursary to selected students.
"We've been really fortunate throughout Covid to have some philanthropic organisations acknowledge the work we are doing and have very generously given us some money to award scholarships or bursary programs for students who wouldn't otherwise be able to afford our fees," Ms Kugler said.
Families, carers and students are invited to take a tour around Lyrebird College at any time by appointment. Appointments can be made by contacting admin@lyrebirdcollege.org.au or on 0407 175 507.