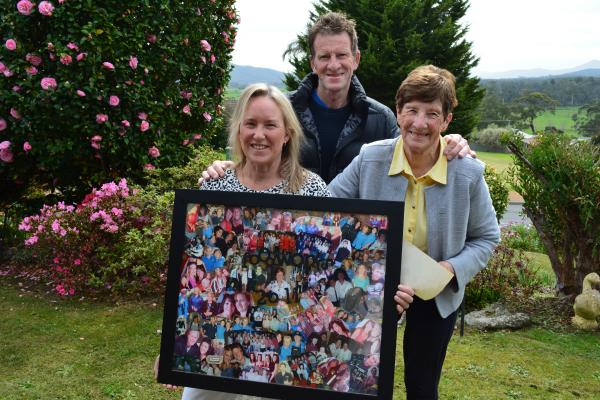 By Renee Wood
The Stephens family has been serving the Woori Yallock community for almost 40 years but the time has come for the family to sign off on their last shift.
Dot, Glenn and Bernadette Stephens sold Foodworks in March this year to retire and embrace family life.
The family's journey first began in August 1983 when Dot and Monty Stephens purchased the local general store and the family lived behind it.
"Monty, my husband was in the police force and had to retire because of ill health, and he was tired of not doing anything so he saw this general store for sale," Dot said.
"We didn't have any experience but we decided we'd give it a go and Glenn came and worked with us."
Three years later they purchased a site on Warburton Highway and built and opened Goodfellows, which is now known today as Foodworks.
It was a true family business as Dot, Monty, Glenn and his wife Bernadette worked in the supermarket.
The business continued to grow as did local support, with the store expanding into shops around it.
"We went into the shop next door and we extended all the shelving, it was like all of a sudden we were a supermarket and people really liked it," Bernadette said.
"We were able to extend all the aisles, we moved the deli into the new store, we put all the fresh fruit and veggies and meat in there, and made that a fresh food section."
A big highlight was also building the drive through bottle shop 24 years ago.
"We had a little bottle shop in the supermarket and you could see all the traffic going past and I thought I've got to get a piece of that and then we put the drive through on and it went great," Glenn said.
"That was the best thing we ever did," Bernadette said.
The bottle shop also won an award under Cheers, named the Country Store of the Year in 1998.
Over the decades, the community was always at the heart of the operation as they sponsored several community groups, sporting clubs, child cares, schools, charities and more.
Before Monty passed away in 1995, he also visited the primary school once a month to present pen awards to the student named Aussie of the month.
The store offered free delivery locally and last year online shopping became part of its vital service when the family worked through the pandemic providing essential supplies to residents.
Supporting local food and wine producers was also a top priority for the business.
It was a place for loyal customers to shop, getting top class service with staff carrying groceries to cars, plus a place staff were known as family.
Friendships and even marriages among young staff members blossomed, as staff stayed for decades and new generations came in for their first jobs.
"I always picked the staff from the parents that came into the shop and shopped with us, and now we've got different ones that work for us, that their parents worked with us," Dot said.
The Stephens said over 600 employees worked for them, with some still remaining today under the new owners.
"I was a bit sad when we sold it, but I knew it was time, I loved all of my staff," Dot said.
"I'd like to thank all the loyal staff over the years it's been fantastic and all the loyal customers that have shopped with us over the years. We thank you for your support and we miss you all," Glenn said.