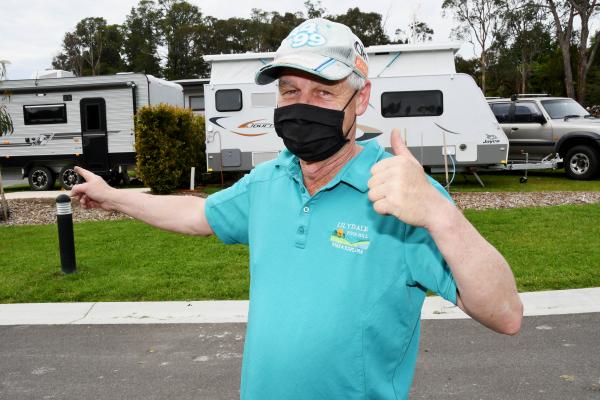 By Mikayla van Loon
The itch to get away from home after months of lockdowns and restrictions has seen local caravan parks filling up with bookings for the weekends ahead.
With lockdown coming to an end on Thursday 21 October at 11.59pm, Lilydale's Pine Hill Caravan Park business manager Sruthy said calls started as soon as the announcement was made.
"We are getting a lot of bookings. As soon as Dan informed us that you can open up then we started getting flooded with bookings," she said.
Yarra Ranges Tourism CEO Simon O'Callaghan said this was a theme across the shire.
"Phones have been ringing off the hook for accommodation and attractions which is fantastic news for the region," he said.
Although many places have already booked out for the weekends ahead, Simon said some will remain closed until the 80 per cent vaccination rate is reached because due to staffing and costs, it would not be viable for them to open yet.
While Pine Hill's bookings are mostly for the Melbourne Cup weekend, Sruthy said there have been a couple come through for the first weekend out of lockdown.
From Friday 29 October onwards, many of the cabins, powered and non-powered sites are booked out and Sruthy cannot wait to see the park buzzing with people once again.
"We are very much looking forward to it and we will be really excited to see the whole park booked out," she said.
Sruthy also said she is excited to show off the many improvements that have been made to the caravan park.
"We've set up a playground area for kids to play in which we didn't have before. So that's all ready for the kids to start playing.
"And then we're getting the information center put in so Sue [marketing manager] will be giving information to people who want more information about what things are around the Yarra Valley."
With interstate and even regional travel on the backburner for some time still, travel within metropolitan areas is the only option.
Simon said the Yarra Valley and the Dandenong Ranges have so much to offer people and he hopes people flock to these areas as an escape from being at home.
Having suffered some of the biggest losses in the state off the back of a record year in 2019, the Yarra Ranges tourism sector is eager to see visitors return, to experience the beauty and culture of the region.
Simon said however, it will take some time for businesses to recoup funds and build back up to the 2019 level but businesses are "desperate to get back" after what has been quite a mentally tolling time.
Pine Hill Caravan Park has been preparing for the summer season by building 10 more cabins which should be ready from the end of January or early February.
"Summer is our busy season and last summer it wasn't that busy because we had Covid, so this summer we're really looking forward to getting people in," Sruthy said.
"All of a sudden, after all this time, we're just getting bookings through, it's really good."