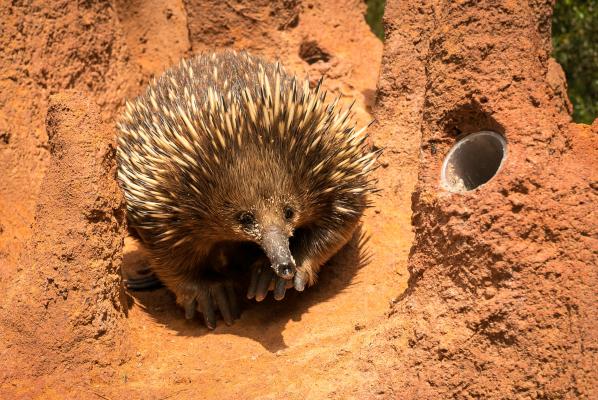 A prickly pair of echidnas have a new addition to their home at Healesville Sanctuary – a purpose-built termite mound that challenges them to show off their climbing abilities.
While echidnas are usually seen waddling about or curled up near a log, these Australian natives are also skilled at navigating mini mountains in search of a meal.
Two of the Sanctuary's eight echidnas – Ringo and Christmas – have been busy exploring their new termite mound, which has multiple feeding tubes that keepers fill with a sticky meat slurry.
Keeper Craig McQueen said the termite mound was designed to encourage natural behaviours from the echidnas.
"Ringo is the more curious of these two Echidnas and was on top of the mound right away," Mr McQueen said. "Whereas Christmas is a little more cautious, but he has been spotted standing up tall to reach some of the feeding holes.
"Echidnas are very curious creatures, so a complex curveball like this is a wonderful source of enrichment and, of course, their 18-centimetre-long tongues are being put to clever use too, slurping up the food."
Sanctuary tradesperson Brodie Stasiak helped build the realistic-looking termite mound. He said echidnas are surprising strong, which made construction an interesting challenge.
"If you've ever seen the way echidnas rip open a rotting log to get to their food, you'll know they can be pretty destructive, and they won't stop until they get a meal," Mr Stasiak said.
"The termite mound has a strong metal frame and a hessian lining so it's still soft on the echidnas' feet and beak." This project was made possible thanks to generous supporter John Cochrane.
Zoos Victoria members and Healesville Sanctuary visitors are reminded that all tickets must be pre-booked online at zoo.org.au and all ticketholders 12 years and over are required to provide proof of full vaccination and follow current Victorian Government directions at www.coronavirus.vic.gov.au