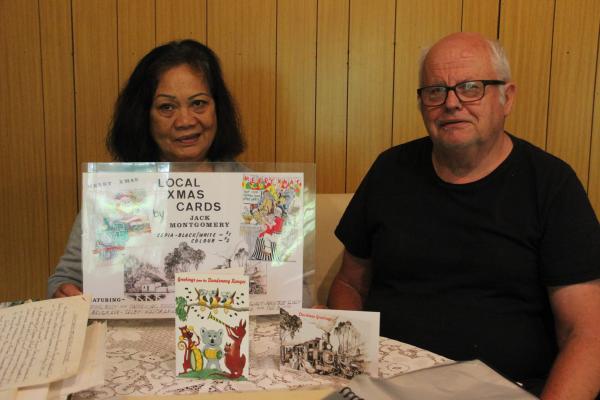 By Parker McKenzie
Local artist and historian Jack Montgomery's work may be getting a whole new audience as his wife and a longtime friend honour his memory through a special Christmas project.
George Reeves is aiming to sell Christmas cards his friend Mr Montgomery designed through schools in the Dandenong Ranges and Yarra Valley, with the profits going towards Healesville Sanctuary and the Cancer Council.
After her husband passed away 20 years ago, Mr Montgomery's wife Elsa maintained a collection of his work.
Mr Reeves said he was inspired when he came across the Christmas cards Mr Montgomery illustrated throughout his life.
"I saw a shoebox with these cards, there were about 20 boxes in the garage, and when I opened them up and saw what was in there I couldn't believe it," he said.
"When the cards look like they've come fresh off the printing press and they were published in the 1960s, 1970s and 1980s it's hard to believe that they are in Mickey Mouse condition."
He intends to sell the cards for $1 through primary schools, with 75c going to Healesville Sanctuary and 25c going to the Cancer Council.
He has approached local schools and Healesville Sanctuary about the idea, who he said have been receptive to it.
Mr Reeves said he hatched an idea after a discussion with Mrs Montgomery about getting young children interested in art.
"We were talking about getting young children involved in art," he said.
"It'd be a great opportunity to introduce Jack's art to a new generation of people through the schools."
Mr Reeves said there are somewhere between 20,000 and 40,000 cards in total with many different designs, including non-religious holiday greetings.
Mr Montgomery founded the Sherbrooke Art Society in 1966 and won several awards throughout his life.
Mrs Montgomery said she believes her husband would have loved to see children embracing his artwork.
"He was always teaching at Upwey High School and doing things like art shows, being involved in the community," she said.
"He did art shows for the fire brigade, and donated his work Bendigo Bank."
A qualified art teacher, he had four books published and illustrated several publications too. His work was displayed in overseas exhibitions in the USA and Canada.
Mr Reeves said that honouring Mr Montgomery's memory won't stop there, and he is hoping some of his work can make its way into Emerald museums.
"I want a lot of his Puffing Billy work and his cards to have a place in that museum," he said.
"In the time that I knew him, with his involvement in this community, he deserved to have a place in that museum."
"I need to do this for his legacy." Mrs Montgomery said.