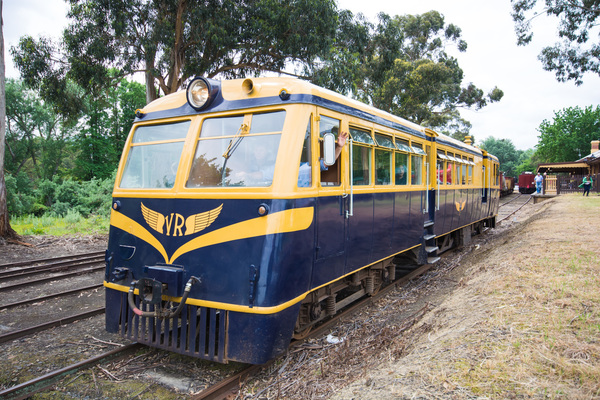 A planning application for buildings and works to construct a rail carriage storage shed and station in Tarrawarra for the Yarra Valley Rail heritage project has been approved.
The permit was requested to construct a train carriage storage shed and to relocate the Mooroolbark Train Station building to the site to support the extension of the railway between Healesville and Yarra Glen.
The application received eleven objections around amenity, traffic generation and condition of the roads and visual impacts however, it was approved and cross referenced with the Yarra Ranges Planning Scheme and was approved.
The shed would be 198 metres long, 20 metres wide (3,960m2 ) and 6.9 metres high and will be constructed of colorbond cladding with colorbond gable roof in woodland grey colour.
It will store and protect vintage rail assets and remove decaying rollingstock from public view at Healesville station.
A smaller storage shed adjoins the large carriage shed, the smaller storage shed is still quite large and would be 20m wide by 24m long, totalling 480m2.
Further west there is an existing station platform upon which the relocated Mooroolbark Railway Station building would be relocated and constructed.
The size and location came under question by Councillors, Cr Fiona McAllister and Cr Johanna Skelton asked why the shed can't be built in Healesville.
Caleb Fielding, who's part of the Yarra Valley Railway project, spoke in favor of the application and answered it was the best location for the shed.
"Neither Yarra Glen nor Healesville really have the suitable space for any sort of usable carriage shed. We've seen that at the moment with our temporary carriage shed at Healesville, it's really not adequate at all in terms of its size or its usability, it just doesn't work," he said.
"Tarrwarra really provides the best opportunity to provide a facility of suitable size while also minimising the impact on the heritage station buildings at Healesville and Yarra Glen."
Cr McAllister also questioned what work has been done to reduce the impact for residents.
"We do maintain engagement with our nearby neighbours, we make sure that we're in compliance with EPA regulations regarding noise, and all that sort of thing. So we really do our best to minimise the impact on them."
David Eastham put forward the motion and councillors all voted unanimously to approve it.
"What the applicant's applying for is what the site is intended to be used for, this site was used for exactly what they're trying to reinstate it as up until the late 1900s," Cr Eastham said.
"It's only really in the last sort 30 or 40 years that it hasn't been used for that purpose, but the zoning still intends that is what the use is for."