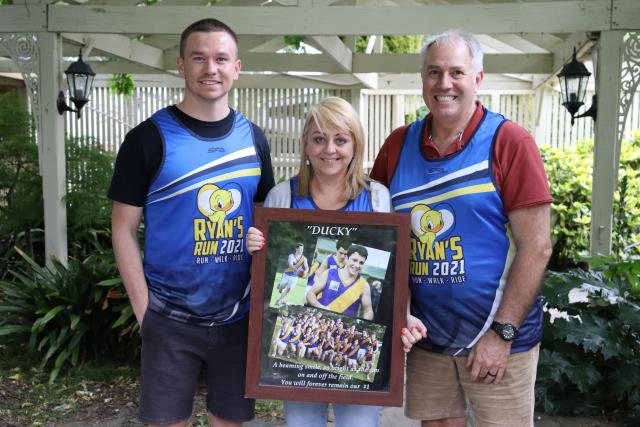 By Mikayla van Loon
For nine years the Donald family, with support of their son's friends, have been raising awareness for a rare but devastating condition that takes the lives of 400 Australians each year.
Graeme and Meaghan Donald, alongside Zak Kennedy have held a number of annual fundraisers for sudden arrhythmic death syndrome (SADS) since the death of their son and friend.
This December they are bringing back Ryan's Run, a 17km walk, ride or run over the weekend of 18 and 19 December, to spread awareness virtually.
Ryan Donald was 17 years old when his heartbeat extended for just a millisecond causing his brain to send an irregular message to his heart, which stopped beating moments later at his home in Yarra Glen.
This is known as SADS, a condition that goes relatively undetected in people under 40.
Zak, a football teammate and friend of Ryan's, organised an inaugural Ryan Donald Memorial Football Match in 2019 between Lilydale and Yarra Glen but Covid-19 has prevented it from happening since.
Nevertheless, like most things over the last 18 months, they are taking it virtual for the second year in a row with Ryan's Run.
"We've had to go a different route but in saying that, the virtual walk, run and ride presented a great opportunity to still do something, not so much to raise money, obviously, we understand that a lot of people have been hit financially during this time but our main purpose with it was just to keep his legacy alive," Zak said.
"And I guess that's my purpose in what I do is to make sure that we're still doing something, even though we can't all be together, we can still do it virtually."
Zak said he would love to see people out from Lilydale to Yarra Glen, dressed in blue and yellow or the Ryan Donald merchandise over that weekend, which will mark the anniversary of Ryan's death.
Although it is as much about remembering Ryan for Graeme and Meaghan, the events they have helped hold each year since 2012 have been to raise funds for the Murdoch Institute so research into genetic tissue can be conducted.
"The tragic thing about this is that 540 people a year, people between the age of five and 35 die from this every year and for 400 there's no reason, they can't find a thing," Graeme said.
"So when you put that in perspective, it is a lot of people, a lot of young people, and it's because the first episode is normally the last. It doesn't get the awareness of breast cancer, prostate cancer or bowel cancer."
"So it does help with Ryan's memory but it also helps a lot. It'd be really nice to think maybe one day they could find something to prevent it," Meaghan said.
Ryan's Run this year is about creating awareness of SADS by sharing posts on social media but with the 10 year anniversary coming up at the end of next year, Zak said plans to host a number of different events are on the cards.
"Hopefully the money we can raise can go to some research that can prevent it or can help other families not just wake up the next morning and not have their son or daughter or father or mother, whoever it is not there."
As someone who loved his football and his friends, Graeme and Meaghan said they are amazed to see how much of an impression their son left on people but are extremely grateful for the support and positivity behind what they are doing.
"We're very lucky that Meaghan and Graeme and James and Mitch, his brothers, we've been able to support them throughout this time and become really close with them as Ryan's friends," Zak said.
"They are such a beautiful family and unfortunately we lost Ryan nine years ago but I think you do get to meet a lot of people throughout these sort of unfortunate events and Ryan would be proud that everyone comes together, he'd probably be a bit embarrassed to be honest."