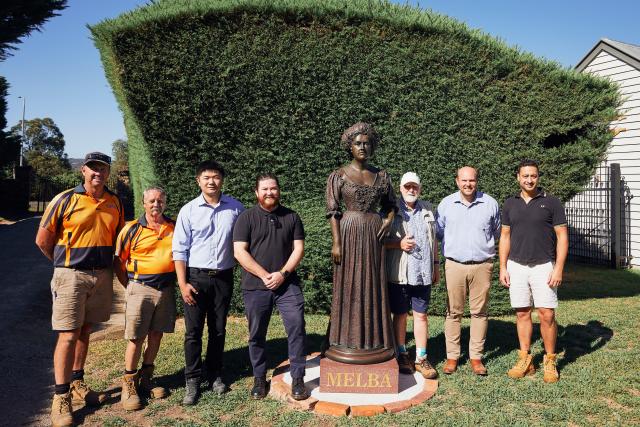 By Mikayla van Loon
Lilydale's Dame Nellie Melba has returned to prime position at her home in Coldstream, with her lifesize bronze statue relocated to Coombe Estate in April.
The statue of the female opera singer and one of Australia's greatest exports was created by artist Peter Corlett and originally placed at NewQuay, Docklands.
But the redevelopment of the inner Melbourne, waterfront suburb saw Melba be removed from her position and put in storage since 2016.
Coombe Yarra Valley managing director Grant Cummin said he had been in conversations with Development Victoria for a number of years about getting Melba moved to Coldstream but the pandemic delayed the process.
"We engaged with the artist, Peter Corlett, who came on site and we decided on a location. His directive was that Melba had to always be in the sun, always be in the light," Mr Cummin said.
"So she's been positioned, facing into the sun and is almost greeting everybody that walks through the front gates of the estate."
Melba first built her Australian home called Coombe Cottage in 1912 and the property remained in the family after her death in 1931.
"For us, it felt like she was coming home. The day she was placed, we had the Melba Opera Trust involved and the current scholar sang 'Home Sweet Home' when she arrived and when she was craned into place, which was quite fantastic on that day," Mr Cummin said.
As an icon of the Australian entertainment scene, as well as a local legend Mr Cummin said it's something quite special to have Melba back on the property she once loved.
"One thing that we were quite proud of is there's a lot of things named after Melba. We've got roads and tunnels and wine and other cafes and restaurants and obviously she's on the $100 note," he said.
"So given this is where her home was and this is where she lived and how much she loved it, we felt having the bronze statue of Melba in the estate she established 100 years ago really brought home the importance of the estate and also this is where Melba liked to be."
Relatives of the opera singer visited the estate and Mr Cummin said they were so pleased to have Melba back on Yarra Valley soil.
Since making her return, visitors have also enjoyed having Melba at the estate's entrance, with Mr Cummin saying numerous selfies and group photos have been taken already.
"The estate is all about coming together and we get a lot of special occasions, a lot of families get together here. So it's provided a really great focal point for people to take that iconic image when they come together.
"[For] regional tourism, people who come to the Yarra Valley are actually now able to come and visit Melba and see her as close to the flesh as you can do. It's lifesize so it is actually the size she was.
"So I think it's a fantastic addition to what the Yarra Valley can offer in general from a tourism perspective."
Development Victoria's group head precincts Geoff Ward said the Melba statue gives Yarra Valley visitors another reason to come to the region and "she will remain eternally on display."
Mr Cummin said the response just since April had been astonishing, with everyone who comes to Coombe recognising the significance of her being there.
"It's one of only a handful of female bronze statues in the state, so it's quite a significant piece for us to have and also for the state.
"It's never going to go into storage again, it's always going to be displayed in that position forever. We're quite proud of that."