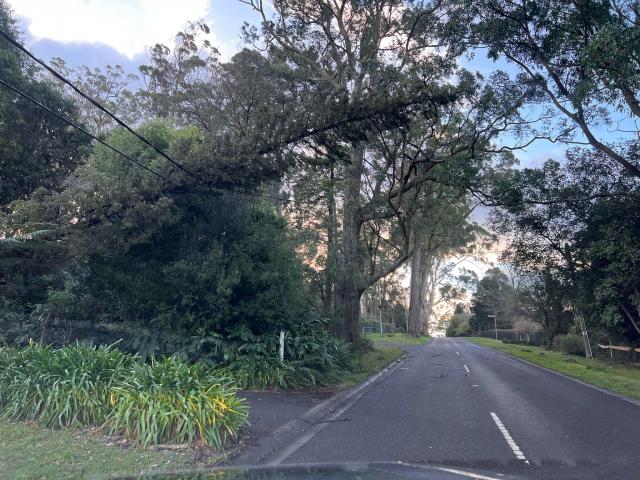 By Callum Ludwig
Thousands of homes have gone without power as wild winds swept across the Yarra Ranges last night.
At the time of writing on the morning of Wednesday 3 August, there were 25 separate power outages on the Ausnet outage tracker and 35 incidents listed on the VicEmergency website across the region.
Head of Communications at Ausnet Karen Winsbury said around 1400 customers in the Yarra Ranges are without power.
"We saw very high winds overnight, and a lot of customers in the Yarra Ranges, particularly around the Warburton area, are without power. We've got crews out in the area at the moment or are heading to the area to make the assessments on what the damage is and how quickly that can be restored," she said.
"We are hoping to have all the power that's currently out restored by the end of the day, but that is subject to change. Because in some of the areas we still haven't made a proper detailed assessment as to the extent of that damage."
1435 customers in Warburton alone are not expected to have their power restored until 4pm. Other areas in the Upper Yarra that felt the brunt of the storm were Millgrove (1181), East Warburton (498), McMahons Creek (87), Reefton (69) and Wesburn (29).
Ms Winsbury warned residents to stay away from any downed power lines.
"Assume they are live, even if they may have been switched off. If residents are concerned, they can report those through to us on our faults and emergencies call centre number, which is 13 17 99," she said.
"Energy is an essential service, and we are seeing increasing weather events. This is not an extreme one, it's just a usual storm, but we live in beautifully wooded areas, so we need to be prepared for that."
Cockatoo was also heavily affected, with an estimated 1684 customers affected.
Other heavily impacted areas in the Yarra Ranges included Gembrook (1125), Emerald (327), Belgrave Heights/South (342), Ferny Creek (240), Ferntree Gully (157) and Montrose (44).
Ms Winsbury said it's unfortunate we are seeing an increased number of storms.
"We were in contact with the Bureau of Meteorology, so were aware this was coming. We had put additional crews on standby as a result of that, and they were dispatched overnight for the fix," she said.
"In preparedness for these things, we also have an extensive vegetation management program, that we have upped in the last couple of years to ensure that we remove any damaged branches that might be overhanging power lines. If we do have these weather events, this ensures they impact us less."