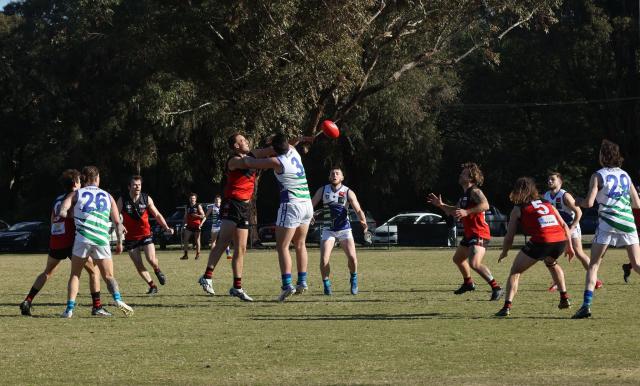 By David Ball
Football
Yarra Glen hosted an in-form Berwick Springs with the home team game dominating general play and putting their opponents under immense pressure in the first quarter. Yarra Glen failed to convert this on the scoreboard, falling down when moving forward. They led at quarter time 2.2 to 1.3.
The second quarter saw Berwick Springs lifting their intensity and taking full advantage of the many errant forward kicks from Yarra Glen. By halftime, Berwick Springs had taken control and led by 17 points at the main break.
The pattern continued in the second half, Berwick Springs was able to move the ball out of defence with plenty of run and carry and some strong marking up forward.
Yarra Glen continued to battle with their field kicking, allowing the visitors easy turnovers that they capitalised on. Final scores Yarra Glen 8.3 to Berwick Springs 15.12.
Jason Godfrey battled hard in the ruck all day. Other good players included Richard Wyles, Blake Binion, Sam Horsley, (1 goal), Billy Gardner and Dylan Flakemore (1 goal). Other goal kickers were Nick McKenzie (2), Anthony Harman (2), James Whelan and Brendan Davis
The Yarra Glen reserves faced up against the unbeaten ladder leaders with a depleted lineup. It was a credit to the team that they competed hard for all four quarters. They made the stronger, faster and fitter opponents work hard and had passages of play where they teamed well and converted up forward. The final result of 4.2 to 18.19 did not reflect the effort the undermanned River Pigs put in.
Young Jordan Quinert (one goal) was great all day. Other good players were Adam Beath, Jacob Reddaway, Zac Capuano, Luke Vanderstadt and Jacob Myers.
Netball
Yarra Glen A Grade was looking to hang on to their top four position when they faced a lower-placed opposition in Berwick Springs. Tight defence from Kaitlyn Vanderkolk and Peta Fay was complemented by solid mid-court work and consistent finishing in attack. They blew the game apart in the second quarter scoring 19 goals to five. The balance of the game saw Yarra Glen continue to control the game and end up convincing winners, 50-27. The best players were Kaitlyn Vanderkolk, Jackie Hibberd and Lara Wandin-Collins (26 goals)
B Grade, sitting third on the ladder was looking to consolidate their position against the lower placed Berwick Springs. They did that in great style, dominating the game from start to finish to demolish their less experienced opponents, winning 74-20 All the girls played well, with the best being Meaghan Carter, Gemma Ryan and Ellen Brown (35 goals)
The C Grade game started as a close battle with Berwick Springs being within a goal at quarter time. For the next three quarters, the Yarra Glen girls consistently outplayed and outscored their opponents to run out easy winners, 49-33. The best players were Alex Bray, Jasmin Wood and Jackie Gardner.
D Grade opened the day for Yarra Glen being the only netballers facing a higher-placed opponent. The first quarter was a see-saw battle, with Yarra Glen holding a slender 1-goal lead at quarter time. The second quarter was a repeat of the first, Yarra Glen outscoring Berwick Springs by just 1 goal to be 2 in front at halftime. It was the third quarter where Yarra Glen gained the ascendency and stretched their lead to 5 going into the last quarter. The visitors fought hard in the last closing the gap before Yarra Glen held on for a determined 28-25 victory.
The best players were Chelsea Burton, Chantelle Farley and Melissa Ericksoni.
Next week Yarra Glen travels to Gembrook. Looking for another four wins.