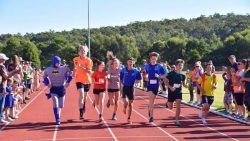 By Jamie Strudley
YARRA RANGES ATHLETICS
Another season of fun and friendship at Yarra Ranges Athletics finished on Saturday with a great morning of little athletics.
They celebrated the achievements of the Under 15s athletes who finished their little athletics careers and hopefully move into senior team ranks where they will undoubtedly continue to flourish.
Congratulations and best wishes to the Under 15s class of 2017: Jayden Clarke, Harrison Van Duuren, Oliver Duncan, Alec Peterson, Pat Keating, Zane Wheeler, Ella Strudley, Sam DiGregorio and Chelsea Thompson.
The last round of athletics was highlighted by the athletes versus parents challenges, with many parents stepping up to go toe-to-toe with their children over 100m.
Not many parent wins were recorded though!
Those tired, defeated parents then stepped up to the tug-o-war only to be similarly walloped 3-0.
Thanks to all the parent helpers and their assistance throughout the season for ensuring all the athletes had a fun, safe and enjoyable athletics experience each week.
They look forward to seing you all back next summer, if not over winter for cross country.
The club hosted the first ever Boost: Athletics Fast event on Saturday night.
A teams event – run along similar lines to Nitro – was a fantastic success.
Check out the Facebook page and website for results, stats and all the photos from a fun, but fiercely competitive, evening.
Good luck to the club's athletes headed to Sydney next weekend for the Australian Open and Junior Track And Field Championships.
Last weekend, the little athletes set the scene with some outstanding perfomances, headlined by Kiara Flavel breaking the Australian Under 11s 400m record, running 59.97s to win the state title.
The club presentation evening for little athletics members is on Saturday 1 April.
Email lav@yarrarangesathletics.org.au to book your ticket, more information on the website.