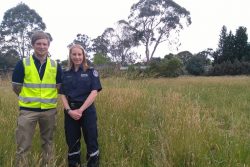 Council and CFA are reminding the community to complete regular backyard clean-ups throughout the summer period.
While clearing your property ahead of the fire season is crucial to reducing fire risk, making time to clear fallen tree debris, grass and twigs every few weeks is just as important.
CFA Manager of Community Safety, Tammy Garrett, said smaller, manageable clean-ups each weekend were an effective way to approach clearing leaf litter and managing excess vegetation.
"Making time to clear up little bits of your property doesn't feel as overwhelming and it's much more manageable than doing a big clean-up when it's too late," Ms Garrett said.
"Residents need to remember that trees, plants and grasses continue to grow throughout the summer period and one big clean-up prior to the fire season isn't always enough."
Ms Garrett said residents must always check fire restrictions and weather conditions before planning to burn off.
"The CFA declared fire danger period which is due to be called shortly, will trigger fire restrictions meaning it is not safe to burn off on your property," Ms Garrett said.
"A permit is required to burn off during fire restrictions."
When the fire season is declared, residents may only have a few days' notice, she said.
"The message is to start now and not to wait for the CFA to declare the fire danger period," Ms Garrett said.
Council Fire Prevention Officers will be inspecting properties across the Yarra Ranges over the coming months starting in November, as part of council's Fire Hazard Inspection Program.
This year, council's local laws rangers will be assisting inspections and focusing on urban areas, allowing the fire prevention officers to assess the high risk areas.
Check restrictions first at www.yarraranges.vic.gov.au/burningoff.
Assess your fire risk with the CFA's interactive tool at www.cfa.vic.gov.au/plan-prepare/am-I-at-risk/
Check the Fire Danger Ratings daily via the VicEmergency website at www.emergency.vic.gov.au or via the VicEmergency app.
Need help preparing?
Council has a list of contractors providing services including tree stump removal, slashing, mowing, clearing gutters and roofs, tractors and slashers and hand machinery on the Fire Preparation page on council's website at www.yarraranges.vic.gov.au/fireready.
Council offers a fortnightly greenwaste bin collection service for an annual fee. The collection is available in urban areas, townships and the Dandenong Ranges.
Council's bundled branches collection starts 27 November.
This collection combines hard waste, bundled branches and metals.
What to put out for collection (three cubic metres max):
* Up to 20 bundles of branches. Maximum of 1.5m long and 200mm diameter
* Tree limbs (75mm – 200mm diameter). Straight clean logs with side branches removed. Maximum 1.5m long.
* Branches (up to 75mm diameter) tied with non-plastic string. Maximum 1.5m long.
Place your items on your nature strip by no later than the Sunday before your collection date. Make sure they are not put out earlier than one week before the collection date.
Residents can check if these services are available to them at www.yarraranges.vic.gov.au/myneighbourhood
What happens if you don't clear your property?
If your property is deemed a risk from excess vegetation, you will receive a fire prevention notice.
If you do not clean up or complete work directed on the notice, you will face penalties including the cost of a contractor to clean up, administration costs of $205 and a $1590 fine.